Monitor Remote Employees
What tasks does it solve?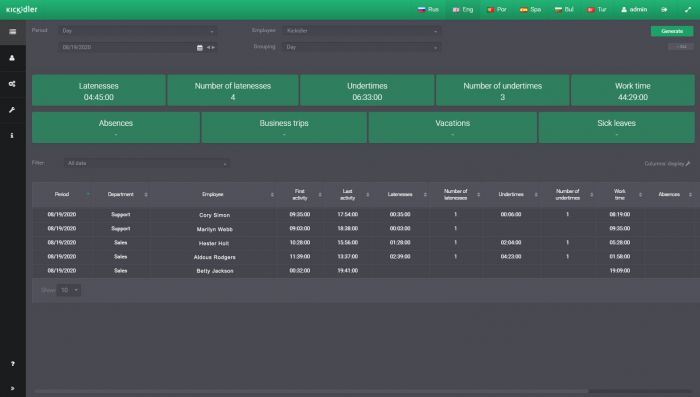 Time Tracking of Remote Employees
Remote employee time tracking is quite a challenge for managers due to their inability to evaluate the presence of said employees at work along with the degree of their involvement in the work process. Kickidler remote work monitoring software helps to solve this problem, as it automatically records the following information for each remote employee:
Time of the beginning and end of the workday.
Lateness (which in case of remote employees means turning on their computers behind schedule).
Early end of the workday.
Absence from work (which implies total absence of the employee from the remote workplace during the time when they are supposed to be there).
Exact number of hours spent working per day, week or any other period.
Overtime (in case there is a set amount of time when an employee needs to be present at their remote workplace).
Kickidler remote desktop monitoring software accurately records the hours employees have worked, regardless of whether they work in the office or from home. The software logs all periods of activity, so managers receive comprehensive information regarding the hours the employees worked during the selected period or any violations of the work schedule they might have commited.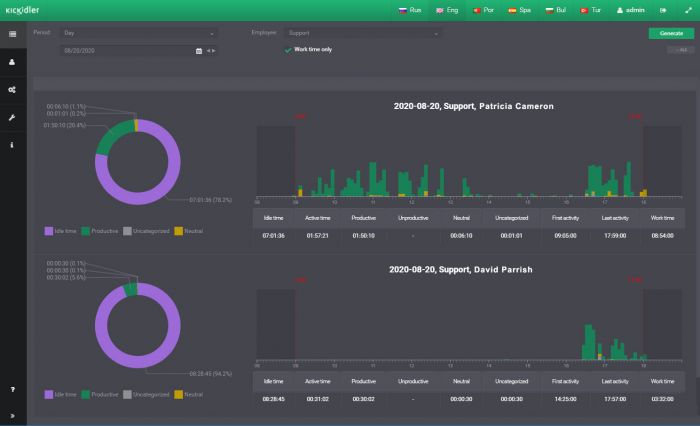 Analysis of Productivity of Remote Employees
Kickidler work from home employee monitoring software tracks every action of remote employees every second of the day and classifies it as "productive," "unproductive" or "neutral." Idle time is recorded as "inactivity." Reports are generated based on the following data:
Performance. It allows you to evaluate individual employees, certain teams, units or even the company as a whole.
"Day's details" report. It allows you to analyze phases of highest and lowest productivity as well as the amount of time employees spend at the workplace and engaged in work-related tasks.
Dynamics. It allows you to evaluate the exact days and times of day when employees are most and least productive.
Time. It allows you to check which sites and apps employees interact with during the day and how much time they spend in them.
Applications. It allows you to see the generated list of apps employees use most often.
Rating of employees. It allows you to determine the most productive and unproductive employees and adds a game element to the process of time tracking.
By analyzing productivity and remote work monitoring, managers can understand how engaged remote employees are in their work, how often they get distracted and exactly what those distractions are. Such monitoring also helps with understanding whether remote employees are actually busy with their work or they're just faking their flurry of activity. As a result, the executives don't need to worry about keeping track of remote employees – all they need to do is look at the reports.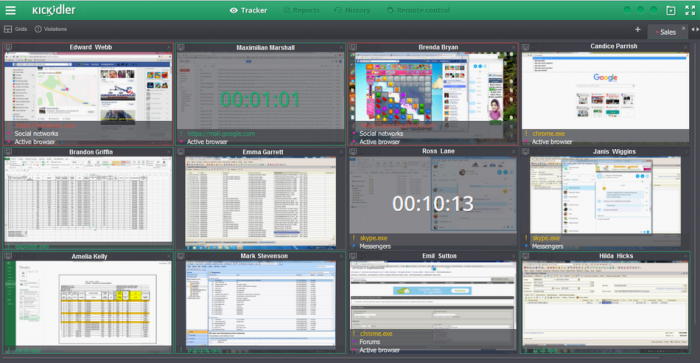 Real-Time Monitoring & Screen Video Recording
The combination of these features is the most beneficial way to monitor remote employees, since this combo makes it impossible to cheat the remote employee desktop monitoring software. It is futile to use different software and apps that mimic fake activity; and there is simply no option for employees to do nothing while claiming to be active. Such actions will be detected thanks to the following features:
Real-time monitoring of computers. It gives managers the ability to view a grid with the screens of all employees and, if necessary, zoom in on a certain employee's screen or even connect to their PC remotely.
Screen video recording. Such recording is done during the entire work shift. Files are saved on the Server, and they can be viewed at any time. Video is synchronized with events and a keystroke logging feature, enabling managers to easily find the segment they want to view.
Separately, these features are not unique, but only Kickidler employee remote monitoring software integrates them simultaneously, which makes the solution pretty much the only monitoring tool that can't be fooled by special software or any other manipulations.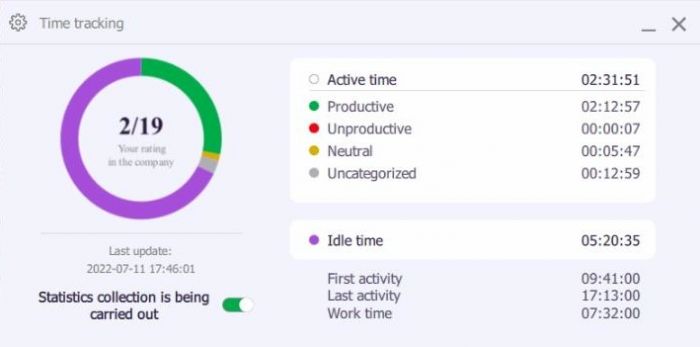 Autokick
Autokick is a tool that at once integrates several features that are aimed primarily at increasing the motivation of remote employees and their self-discipline. It is a framework of automatic notifications on workplace violations, the list of which is defined by the manager. In addition, it is also a self-monitoring interface, where emploees can view their personal statistics and compare them with previous reports.
Autokick helps with the following aspects of remote employees' work processes:
Increasing employee motivation. Each employee is notified of a violation right when it occurs. Visiting prohibited sites, running banned apps, being inactive for too long – no slip-up goes unnoticed even when an employee is working from home, and that's really motivating.
Minimizing negative communication. Managers don't need to call or message their employees non-stop to inform them of a violation and its possible consequences. Kickidler remote PC monitoring software does it automatically via notifications, making the process more acceptable and even comfortable for everyone.
Improving automation. Managers only need to configure the rules once, and the software will monitor employees' compliance automatically. Managers don't need to waste their valuable time on targeted micromanagement.
Autokick is designed to ensure that the work of both office and remote employees is monitored in a more automatic mode. It also enables employees to monitor their own productivity and become more self-disciplined. Moreover, with some configuration, this set of tools allows employees to switch the Grabber on and off at the beginning and end of the workday, which is incredibly convenient if they work from a home computer and don't want their activity to be monitored during their time off work.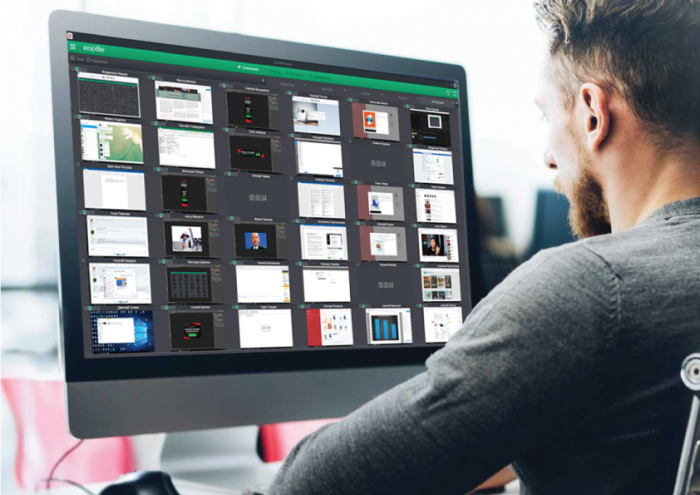 Configuration of Remote Monitoring
One of the advantages of Kickidler remote desktop monitoring software is the simplicity of its configuration and use. Another benefit is its cross-platform functionality, which makes the installation of the software on various operating systems a smooth process.
Switching to remote monitoring involves the following steps:
Registration on Kickidler's official website, after which you will be able to log into your personal account.
Server installation (node.x32.msi or node.x64.msi depending on the mode of your operating system). All the information gathered by the software will be stored on it. Preferably, it should run 24/7 and be installed on a high-powered PC.
Installation of the viewer. It's installed on the PC of the manager or the employee who's responsible for monitoring remote employees' work. Web-interface through which you can also monitor the work of remote employees serves as an alternative to the viewer.
Installation of grabbers. They are installed on the computers of employees who are going to be monitored.
Provision of the broad network availability of the server. This is necessary in order to connect all the PCs in a unified framework via the Internet. At first launch, the server tries to automatically configure its network availability automatically. However, if you have a mix network, you'll need to configure it manually with the help of this guide.
Once all the components of the software are successfully installed (server, grabber, viewer), grabbers will try to connect to the server, where they are supposed to transfer information from the employee's computer. Managers will be able to check exactly what their remote employees are doing at any time via the viewer.
Kickidler provides efficient technical support. So if there are any difficulties or questions related to the installation and configuration of the software, you can easily contact the tech support specialists and get any help you need.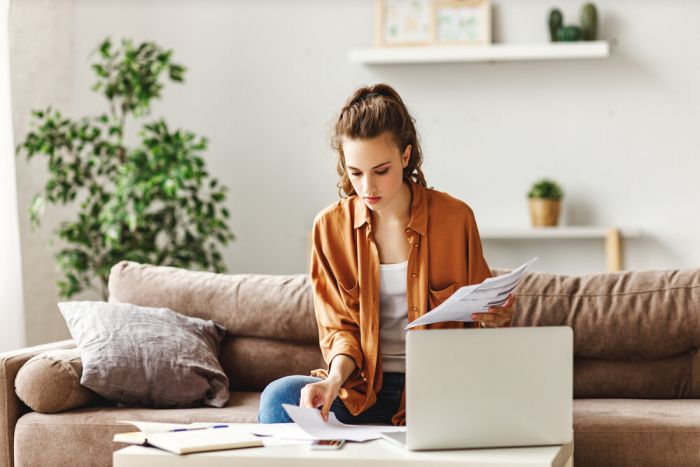 Effect from Implementing Remote Employee Monitoring
Increased remote employee productivity. Work from home monitoring software ensures remote employees remain focused on their tasks during their billable hours. Kickidler remote PC monitoring software Autokick set of tools tracks every episode of employees' procrastination and allows managers to take unbiased and effective action.
Enhanced workflow transparency. To plan business processes efficiently, mangers require a comprehensive overview of how internal processes are carried out. Kickidler remote employee time tracking software provides managers with data on what employees are doing at any given moment, how much time they spend engaged in certain tasks, exactly how they approach these tasks, and so on.
Proven management objectivity. Remote work monitoring enables managers to make decisions that are fully supported by analytical data gathered by the software for remote workers. When every action of your employees is visible at a glance, it makes the navigation of day-to-day business processes significantly easier.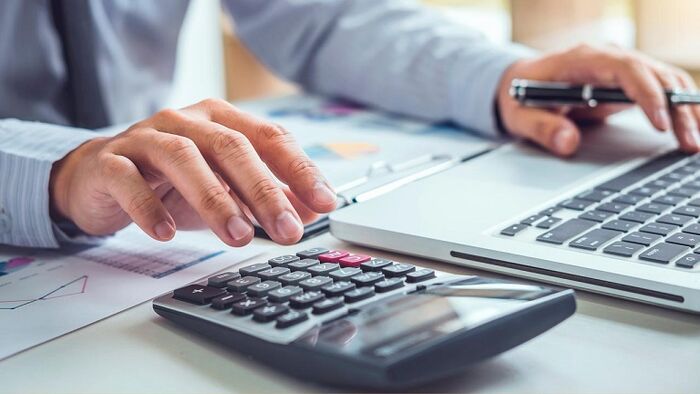 Client Case
Monitoring remote employees can present quite a challenge. One of our clients, a Polish online retailer, has turned to Kickidler in the time of need.
Having implemented Kickidler, with the help of its analytical and reporting features, the client evaluated employees' user behavior patterns and determined existing bottlenecks within the company processes, thus managing to reduce the cancellation rate on store orders and increasing company profits.
FAQ
How to monitor remote employees?

One of the most effective ways to monitor remote employee performance is to utilize software designed specifically for those reasons. Employee monitoring software allows managers to track employee activity and analyze all the gathered data.

Remote desktop monitoring software allows managers to analyze their employees' internet browsing history, how they are using their computers (including the number of keystrokes and the actual words they type), what they store on their PCs, and the contents of their work messengers. This way, managers can identify strengths and weaknesses of their remote employees, track their progress, and ensure that company resources are used efficiently.
How does remote monitoring work?

Implementing remote employee time tracking software. Using some kind of work from home monitoring software to keep tabs on how your remote employees are spending their time throughout the workday usually encourages employees to be wiser about their work engagement.

Creating task lists and allowing for self-reporting. If managers trust their employees, they could also institute some policy related to self-reporting and utilize self-management functionality of employee monitoring software.
Is it legal to use remote employee monitoring software?

Indeed, most employee monitoring methods are legal. For example, in the United States, the federal law against privacy invasion (ECPA) allows electronic monitoring of employee communication for legitimate business purposes.

The number one monitoring practice that in most cases would be considered illegal, however, is monitoring employees without their knowledge or consent. At the same time, this practice is considered legal when an employer suspects malpractice and wants to catch the insider red-handed.
Is it ethical to monitor employees?

Yes, it is (if done wisely). Employers are free to monitor their employees – as long as there's a valid business purpose for doing so. We would also advise you to give your specialists written notice (for example, in an employee handbook) that their work computers aren't private and that the company is free to monitor corporate devices, for example, by using monitoring software for employees who work from home.
What are the downsides of using employee monitoring software?

Monitoring remote employees' user activity can cause your workers to feel like you don't trust them to do their jobs. What's more, monitoring them without consent can create serious problems in the workplace culture, resulting in lowered morale and productivity.

All these potential issues, such as invasion of privacy, unfair labor practice, and discrimination charges, can be avoided simply by notifying the staff beforehand. This way, monitoring tools will be seen as a way to improve employee efficiency, accountability, productivity and safety.
What are the benefits of using employee monitoring software?

The majority of companies use software to monitor employees working from home in order to track the work-related data on specialists, such as their working hours, how much time they spend engaged in work-related activity, whether they spend a long time on social media. Comprehensive data collection on employees, especially those who work from home, allows managers to improve the employees' workflow.

Advanced employee monitoring software, besides being a very cost-effective solution, also helps to increase employee productivity and improve team performance.

Continuous employee performance monitoring can even help managers to detect underlying problems before they have an adverse effect on the internal processes of the company.