Monitoring remote employees
What tasks does it solve?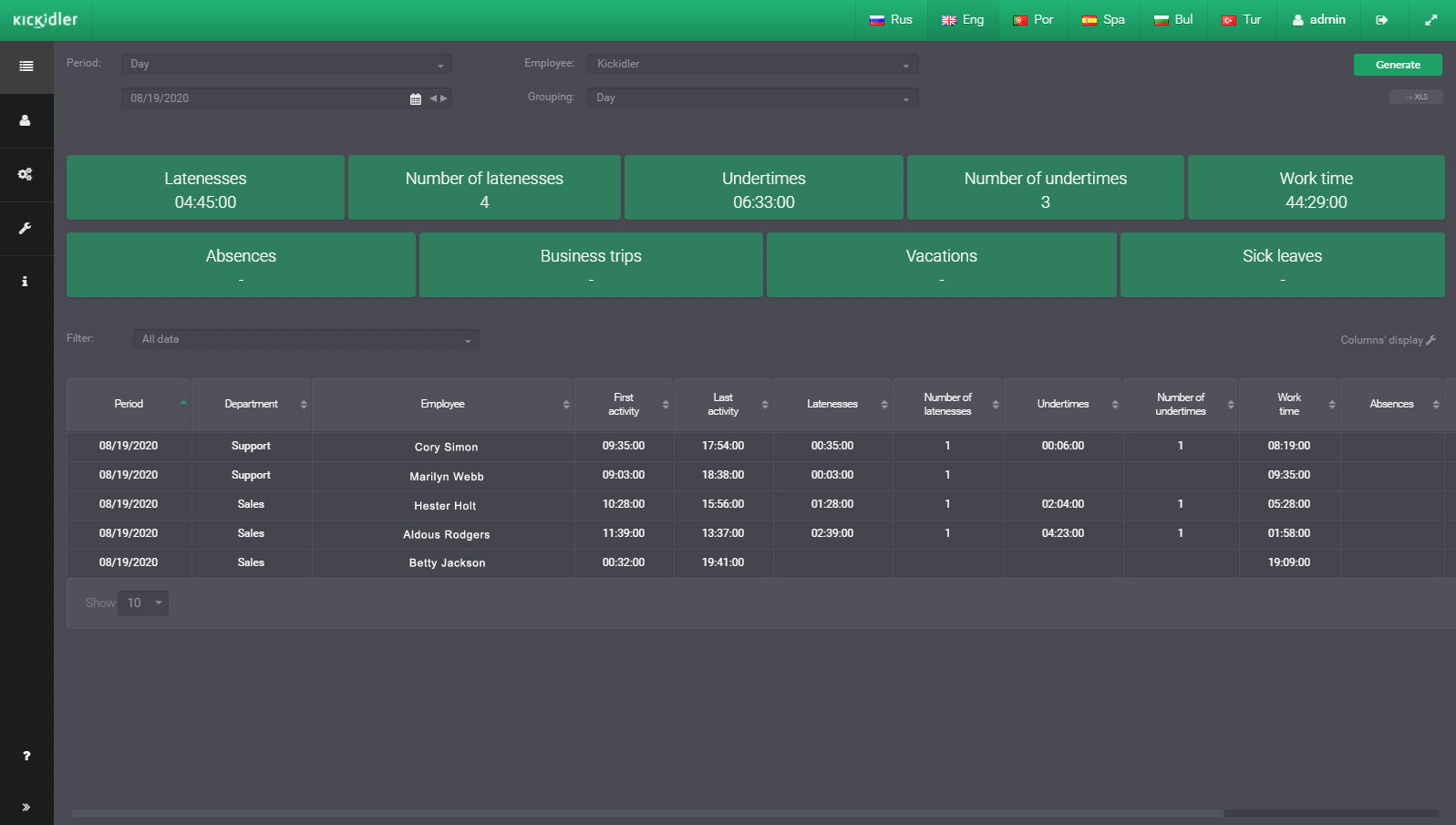 Time tracking of remote employees
Tracking the work time of remote employees poses a challenge for supervisors due to their inability to visually assess the presence of such employees at their workplaces and their degree of involvement in the process of accomplishing assigned tasks. Kickidler remote employee monitoring program allows you to solve this problem, as it automatically records the following information for each remote employee:
Time of the beginning and end of the workday.
Lateness (which for remote employees means showing up late to their computers).
Early end of the workday.
Absence from work (which implies total absence of the employee from the remote workplace during the time when they are supposed to be there).
Exact number of hours worked per day, week or any other period.
Overtime (in case there is a set amount of time an employee needs to be present at their remote workplace).
Kickidler work from home employee monitoring software accurately records the hours the employees worked, regardless of whether they work in the office or from home. The system logs all periods of activity, so the supervisor receives comprehensive information regarding the hours the employees worked during the selected period or any violations of the work schedule.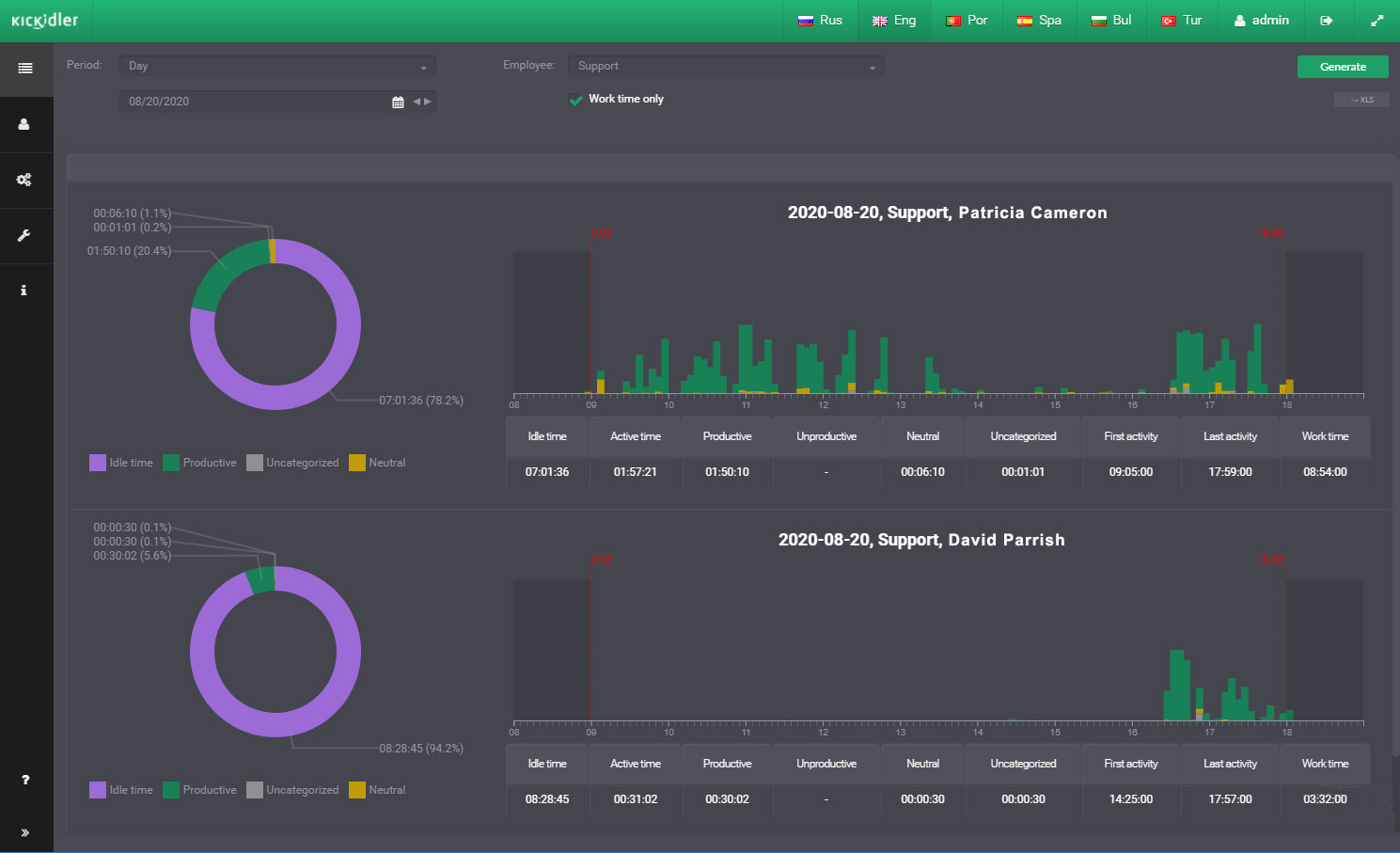 Analysis of productivity of remote employees
Kickidler software to monitor remote employees monitors every action of remote employees every second of the day and classifies it as "productive," "unproductive" or "neutral." Idle time is recorded as "inactivity." Reports are generated based on the following data:
Performance. It allows you to evaluate an individual specialist, a group, a unit or even the team as a whole.
"Details of the day." It allows you to analyze periods of maximum and minimum productivity as well as the amount of time spent at the workplace and on performing tasks.
Dynamics. It allows you to evaluate the days and times of day, when the employee is most and least productive.
Time. It allows you to check which sites and apps the employee interacts with during the day and how much time they spend using them.
Applications. Kickidler remote employee monitoring software generates a list of apps the employee uses most often.
Rating of employees. It allows you to determine the most productive and unproductive employees and adds a game element to the process of time tracking.
By analyzing productivity, the supervisor can understand how well a remote employee is engaged in their work, how often they get distracted and by what, are they actually busy with their work or are they just pretending to be doing it. As a result, the executive doesn't need to worry how to keep track of remote employees' actions – all they need to do is look at the reports on their employees' productivity.
Online monitoring & screen video recording
The combination of these features is the most beneficial way to monitor remote employees, since this combo makes it impossible to cheat the remote employee desktop monitoring software. It is futile to use programs and apps that create fake activity; there is no possibility to simply do nothing while claiming to be active. Such actions will definitely be detected thanks to the following features:
Online monitoring of computers. It gives the supervisor the ability to view a grid with the monitors of all employees and, if necessary, zoom in on a certain employee's monitor or connect to it.
Screen video recording. It is carried out during the whole work shift. Files are saved on the server and can be viewed at any time. Video is synchronized with events and a keylogger, enabling the supervisor to quickly find the segment they want to view.
Separately, these features are not unique, but only Kickidler employee remote monitoring software offers them simultaneously, which makes the program pretty much the only system that can't be fooled by special software or any other manipulations.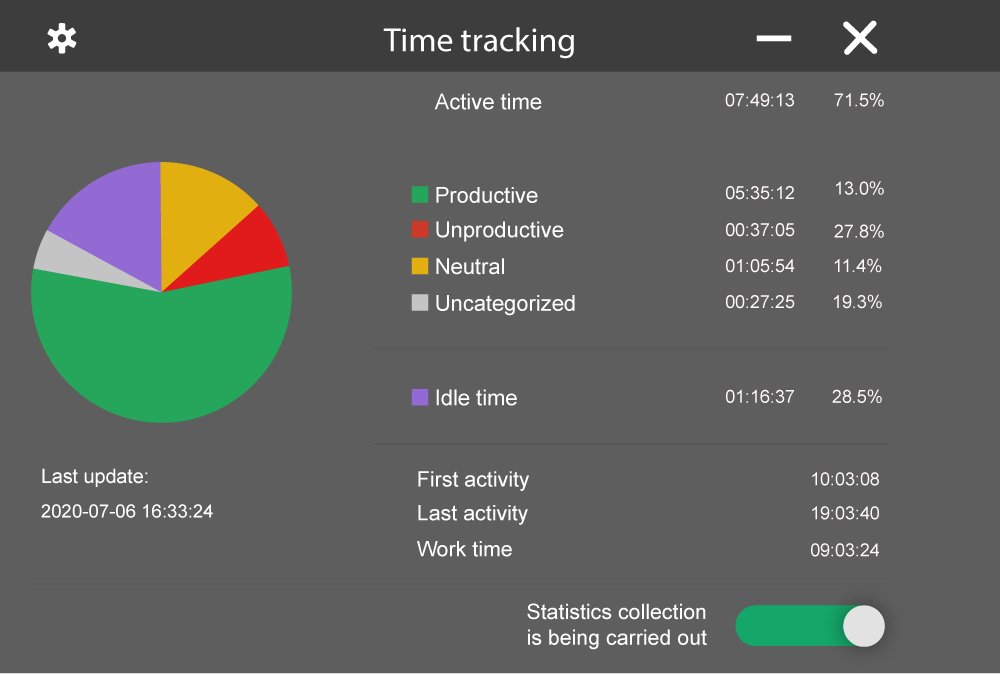 Autokick
Autokick is a tool that at once integrates several functions that are primarily aimed at increasing the motivation of remote employees and their self-discipline. It is a system of automatic notifications on workplace violations, the list of which is defined by the supervisor. In addition, it is a self-monitoring interface, in which the employee can view their personal statistics and compare them with their previous reports.
Autokick helps improve the following aspects of organizing the work process of remote employees:
Increased employee motivation. Each employee is notified of a violation as soon as it occurs. Visiting prohibited sites, running apps, continuous inactivity – no slip-up goes unnoticed even when an employee is working from home, and that's really motivating.
Lack of negative communication. The supervisor doesn't have to call or message an employee to inform them of a violation and its possible consequences. Kickidler time tracking remote employees program does it automatically with notifications, making the process more acceptable for everyone.
Automation. You only need to set the rules once, and the system will monitor employees' compliance automatically. The supervisor doesn't have to spend their own time doing that.
Autokick is designed to ensure that the work of both office and remote employees is monitored in a more automatic mode. It also enables employees to monitor their own productivity and discipline. Moreover, with some configuration, this feature allows employees to switch the grabber-program agent on and off at the beginning and end of the workday, which is incredibly convenient if they work from a home computer.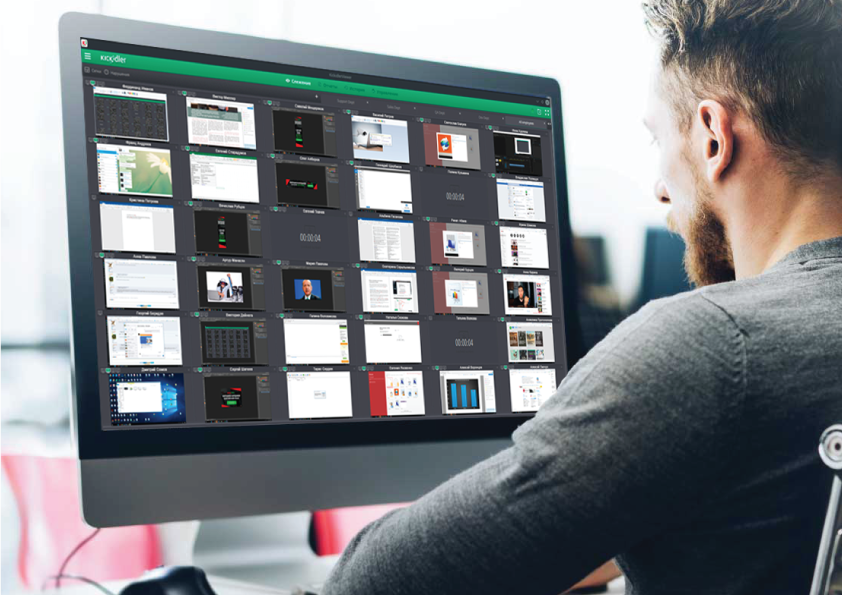 Configuration of remote monitoring
Among the advantages of Kickidler remote employee monitoring software is the simplicity of its configuration and use. Another thing to highlight is its cross-platform functionality, which makes its installation on different types of systems a smooth process.
Switching to remote monitoring involves the following steps:
Registration on Kickidler's official website, after which you will be able to log into your personal account.
Server installation (node.x32.msi or node.x64.msi depending on the mode of your operating system). All the information gathered by the system will be stored on it. Preferably, it should run 24/7 and be installed on a high-powered PC.
Installation of the viewer. It's installed on the PC of the supervisor or the employee who's responsible for monitoring remote employees' work. Web-interface through which you can also monitor the work of remote employees serves as an alternative to the viewer.
Installation of grabbers. They are installed on the computers of employees who are going to be monitored.
Provision of the broad network availability of the server. This is necessary in order to connect all the PCs in a unified system via the Internet. At first launch, the server tries to automatically configure its network availability. However, if you have a mix network, you'll need to configure it manually with the help of this guide.
Once the program is successfully installed (server, grabber, viewer), grabbers will try to connect to the server, to which they are supposed to transfer information from the employee's computer. Via the viewer, the supervisor will be able to check exactly what their remote employees are doing at any time.
Kickidler provides efficient technical support. So if there are any difficulties or questions related to the installation and configuration of the system, you can easily contact the specialists and get the technical help you need.