Employee Monitoring Software for MAC | Kickidler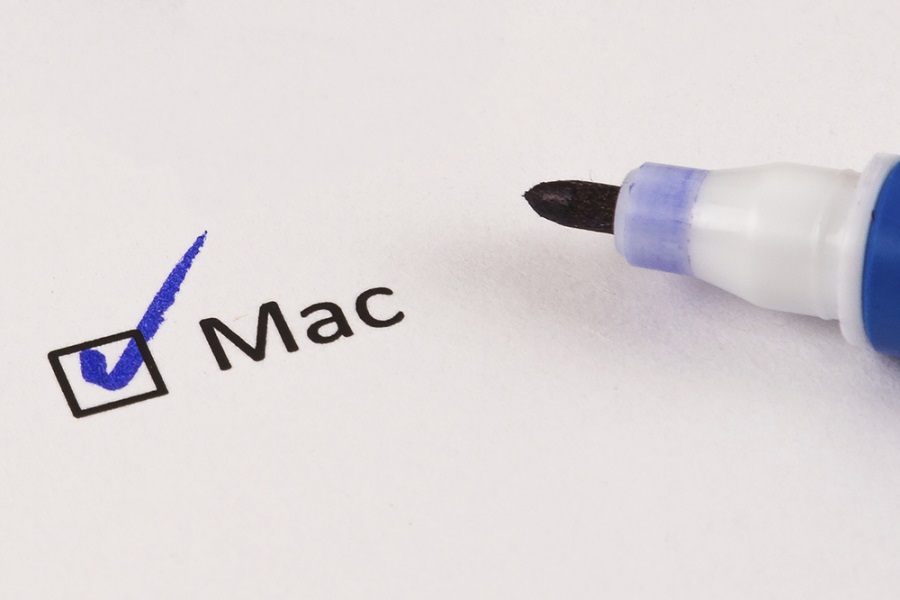 Our program operates on MAC OS!
Kickidler time-tracking and employee monitoring software can be installed on computers operating on Mac OS. We are working to ensure that our software is fully compatible with as much hardware as possible, so we've made sure that it can also be used with this popular operating system.
Kickidler is a program designed to automate time-tracking, control violations, analyze employee productivity and collect all kinds of statistics on their actions during the workday. Its implementation allows the supervisor to get the most reliable information about what the staff is doing and how much time they spend doing what.
Some of our program's advantages include a large number of available tools, ease of installation and configuration as well as compatibility with all major operating systems.
Note! Only Kickidler Grabbers and Viewers work on Mac operating systems. To install the server, use another OS or contact our technical support to install the server on the cloud.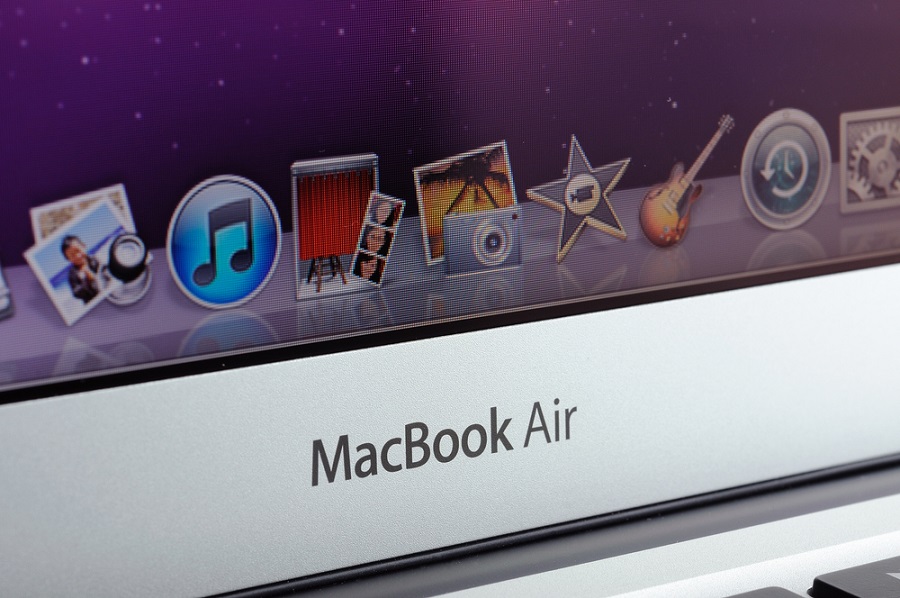 Supported MAC OS distributions
Grabber that's installed on the monitored computers; Viewer that's installed on the supervisor's PC or on the PC of the manager who's responsible for monitoring staff; and Server where the data is stored. that's required for storage of collected information. Grabbers and Viewers are 100% compatible with MAC OS versions: 10.11, 10.12, 10.13, 10.14 and 10.15.
Please note: there is also a server version of Kickidler, but at the moment its installation on servers with MAC OS is not supported. To install it, we recommend using another operating system or the cloud.
The process of installing the program on computers and laptops with this operating system is extremely simple and automated. The task is made even easier with our detailed manual. If you still have any questions about the process or certain steps, you can get answers to any of them by contacting our technical support. We answer promptly!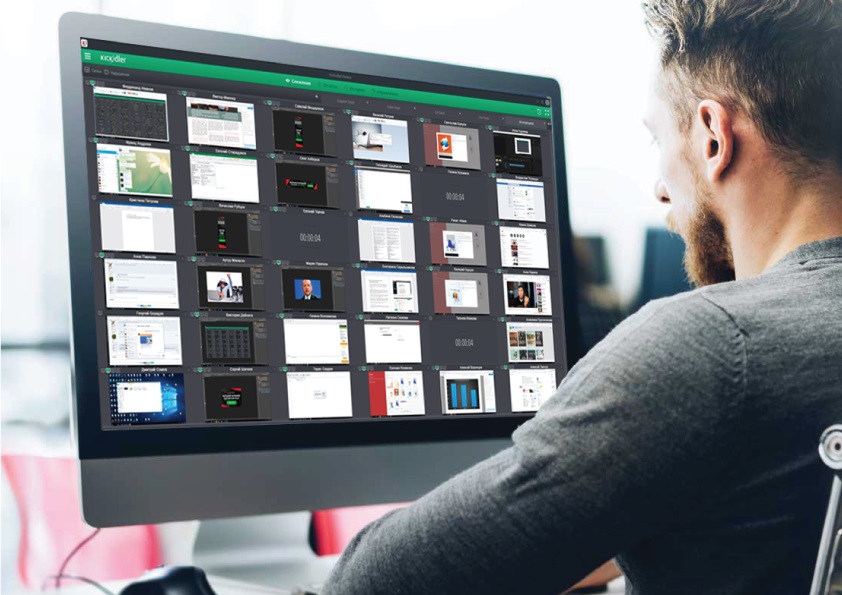 How does Kickidler work?
Kickidler's operating method program is simple yet extremely effective. Its grabbers are installed on employees' computers. Viewer is installed on the supervisor's PC. You can use it to get detailed information about your employees' actions regarding any time they're active on their computers.
An extensive set of tools is available for this purpose – online monitoring of employees' screens, constant video recording of the screens; viewing the entire activity history based on selected events; controlling the violations and receiving notifications on them; productivity analysis. There are also time-tracking, keylogger and remote access features.
Such comprehensive functionality of the program enables you to establish complete yet extremely automated control over work both in the office and over remote employees.
Online monitoring as your omniscient eye
Online monitoring of computers is one of the most useful features available in Kickidler. It allows you to connect in viewer to open a certain employee's screen at any time and see what they're doing at that moment. Monitoring is carried out through the Quadrator that allows you to simultaneously monitor multiple PCs of your employees or even the entire office – the desktops are displayed in the form of a scalable grid.
Sure, you can walk around the office all day long and peek at people's screens, but that won't speed up the workflow, on the contrary, it will slow everything down. Or you can simply install Kickidler, and that way you'll be able to monitor your staff productivity online from anywhere – from your office, home or even from the other side of the planet, if that place has access to the Internet. Everything is easy, convenient and as technologically advanced as possible.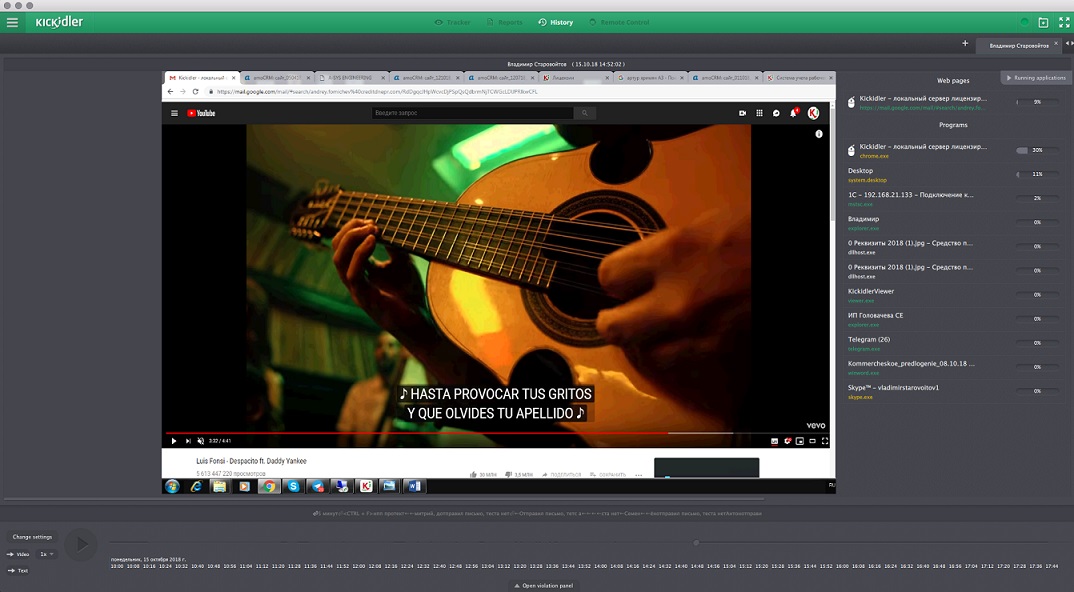 Screen video recording – unique Kickidler feature
Many employee monitoring programs let you take screenshots from employees' desktops, including those taken automatically every few minutes. But that's not very effective, because monitoring employees that way becomes quite shallow. Kickidler has a feature of automated video recording of all employees' actions at their computers, and it's carried out in a continual mode.
And you don't even need to go through all the recordings to find violations or anything else that interests you. The system has filters that allow you to find and play short video clips of site visits, app launches or other actions.
Thanks to this tool, Kickidler is virtually the only employee monitoring software you can't deceive. Any action of the employee can be verified using several different methods at once.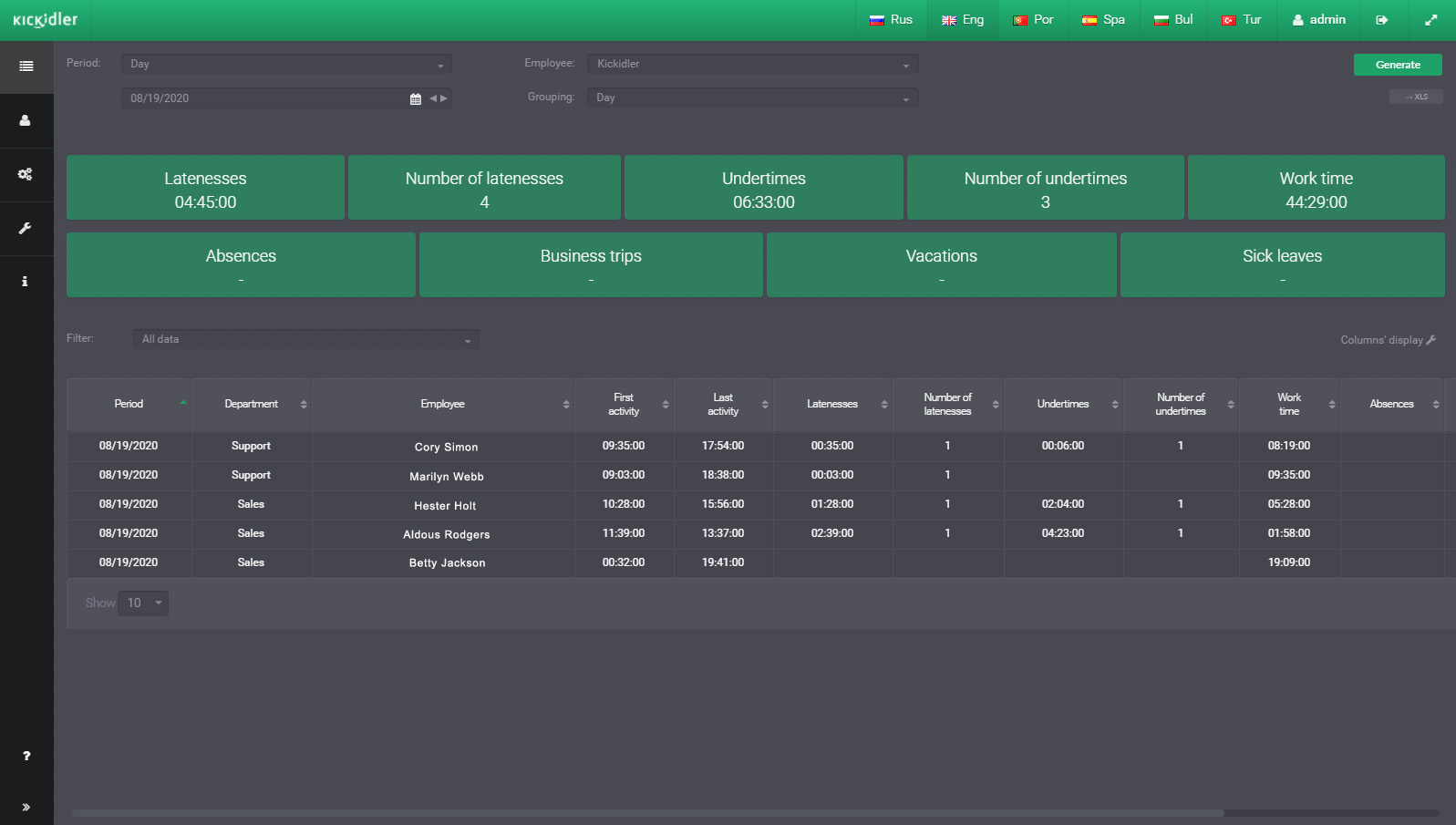 Employee time tracking
Kickidler is a program that knows for certain whether an employee was at work and started the workday on time or spent too much time in the smoke room, kitchen or other places that aren't related to their job responsibilities.
The program records the beginning and end of work, downtime and also notifies about violations of work regulations. No less important is the fact that it also tracks productivity by analyzing the amount of time certain tools were used and whether they are useful for work, neutral or entertaining. The list of such categories is defined by the supervisor during the system setup.
Results are presented in the form of reports, both individual and collective for the entire department or office. Most importantly, the collected statistics are 100% accurate. Work hours are not only recorded, but also analyzed.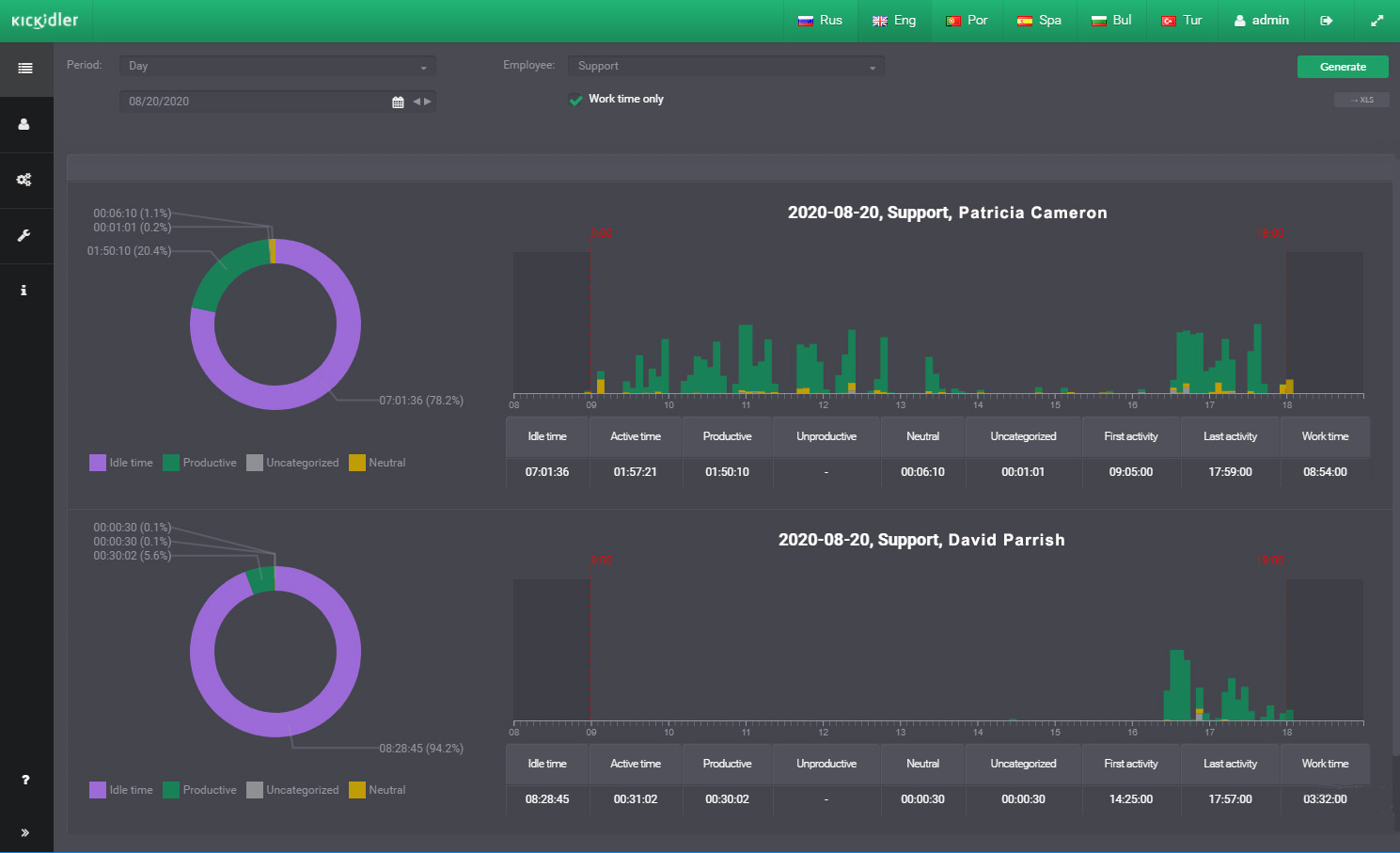 Other Kickidler features include:
Productivity analysis. All employees' actions are automatically recorded and evaluated, and on that basis productivity reports are generated, whether these are productivity reports on individuals, departments or the whole office.
Automatic notifications. Kickidler sends every employee an alert as soon as a violation is detected using Autokick's functionality.
Self-monitoring interface. Kickidler forms individual statistics for every employee regarding their productivity, which can be viewed personally and compared with the performance during other periods.
Productivity calendar. It helps create, edit and monitor work schedules, from lunch breaks to vacation time.
Remote access. It's possible to connect remotely to an employee's computer via the Internet, which comes in hand when monitoring their ongoing activity, changing the settings, etc.
Keylogger. The functionality records each key pressed on the keyboard during the work shift.