Employee Monitoring Software for Windows | Kickidler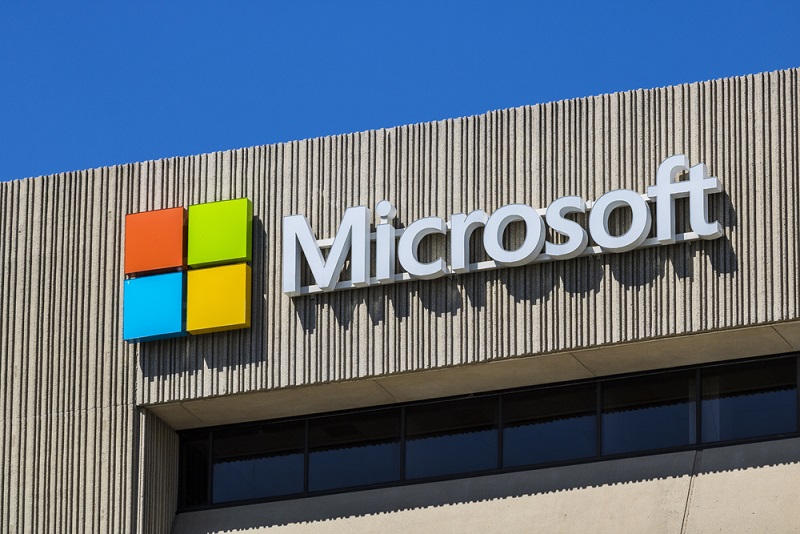 Kickidler, naturally, operates on Windows!
Kickidler is a time-tracking and online employee monitoring software. It's aimed at automating these tasks, transferring them from manual monitoring and execution mode to an automated one that virtually doesn't require any human involvement.
Kickidler is a real additional "pair of eyes" for the supervisor and the employee responsible for the work ethic. This software allows you to know what any employee is doing on their PC at a given moment or what they were doing at any selected period of time in the past. With its help, you can analyze the websites your employees visit, the programs and apps they use and even check their computer screens online. Kickidler also takes into account the beginning and end of the workday and tracks the time employees are absent, late, taking breaks, and much more.
Kickidler can be easily installed on all Microsoft Windows computers and laptops.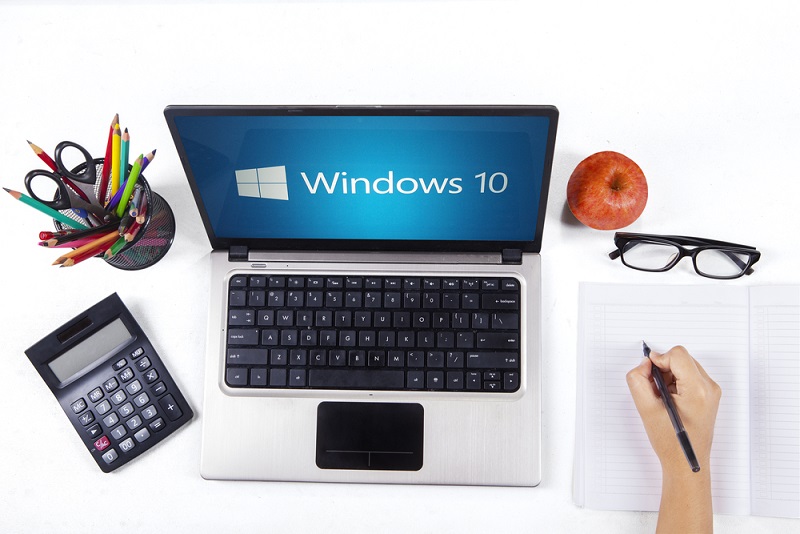 Which Windows distributions is Kickidler supported on?
We made our software as universal as possible and compatible with all popular operating systems installed on companies' workstations and servers. The list of supported distributions differs for grabber (installed on employees' computers), viewer (installed on supervisor's PC) and server.
At the moment Kickidler grabber can be installed on the following versions of Windows: XP (SP 3 only), Vista, 7, 8 and 10, Windows Server 2003, 2008 and 2012 (32/64).
The list will be slightly different for viewer: Vista, 7, 8 and 10, Windows Server 2008 and 2012. All in the 32/64 options.
Supported server distributions: Vista, 7, 8 and 10, Windows Server 2008 (SP1 only) and 2012. All in 32/64 options as well.
One of the major Kickidler's advantages is the extreme simplicity of its installation, which won't be difficult to understand, especially with the detailed instructions we provide and the option to contact our technical support at any time.
How does Kickidler work?
Kickidler is a software that has extensive functionality for constant monitoring and recording of employees' activity at their computers. The program includes such features as online monitoring of employees' PCs, recording videos of their screens, viewing the activity history by actions, violation control and productivity analysis. Other useful tools include time tracking, keylogger (recording all keystrokes on the keyboard) and remote access to employees' computers.
Grabbers are installed on all Microsoft workstations, and viewer is installed on the computer that will be used for monitoring. There are plenty of tools for full-time monitoring in Kickidler, and some of them are completely unique. That's why it works so precisely and why tricking it is pretty much impossible.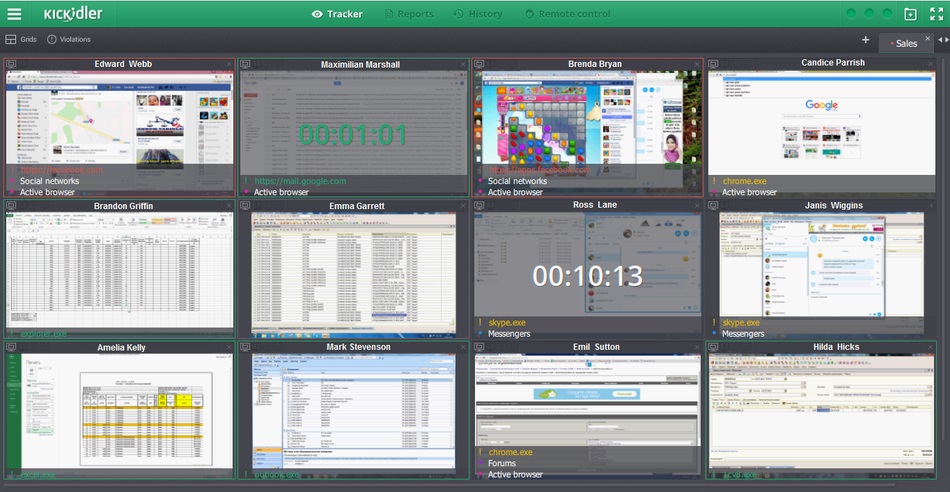 Online monitoring feature
Reading news, browsing social networks and playing online games are typical distractions from work. Minimizing their impact is the cornerstone of efficiency improvement. You can achieve that with the real-time employee monitoring function provided by Kickidler. Its main purpose is to give the supervisor the ability to view online any employee's screen using viewer at any time. There's no need to stand behind the employee's back to check what exactly they're doing.
A Quadrator that allows the supervisor to display any employees' desktops in the form of a grid on their screen makes this feature more convenient. This allows you to monitor pretty much the entire office at the same time with minimal or no effort.
For an employee, online monitoring isn't displayed in the form of icons, and it doesn't affect their computer system performance in any way.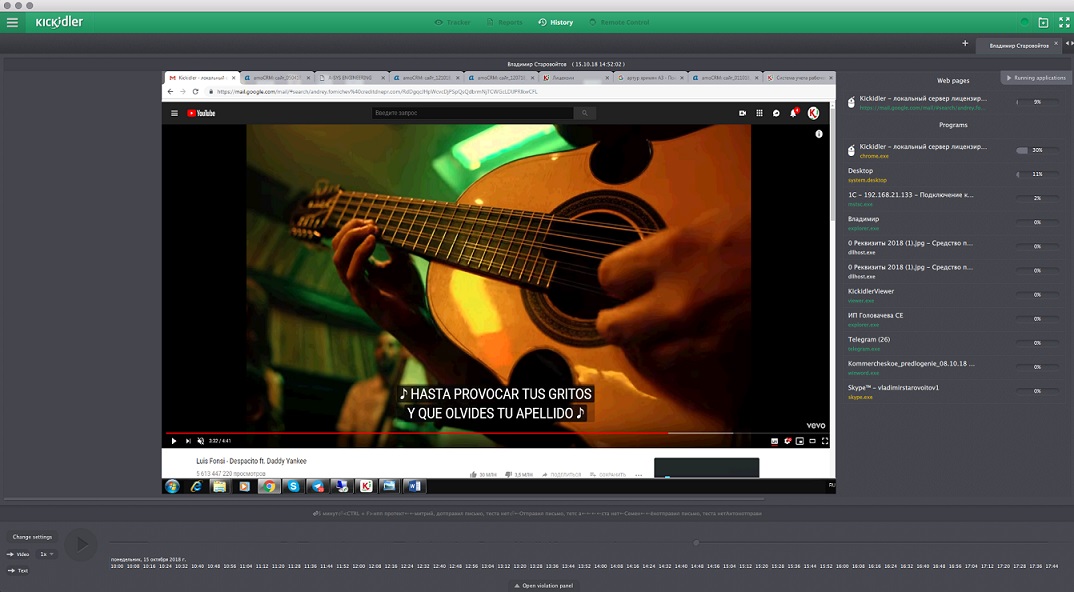 Screen video recording feature
Kickidler is the only time-tracking and employee monitoring system that not only takes screenshots once every few minutes, but also records the full video throughout the day. This approach is more efficient, since it allows the supervisor to check what anyone was doing at their computers at any given moment.
Screen video recording isn't simply a supervisory feature. It can also be used for clarifying controversial moments.
To make it more convenient, Kickidler has a filter system that allows the supervisor to view not entire videos, but only the fragments that interest them. For example, the moments when an employee visits certain sites or launches specific apps. With this tool it's impossible to try and get your way out of a violation, if there is one. If the violation didn't take place, that fact will also be confirmed.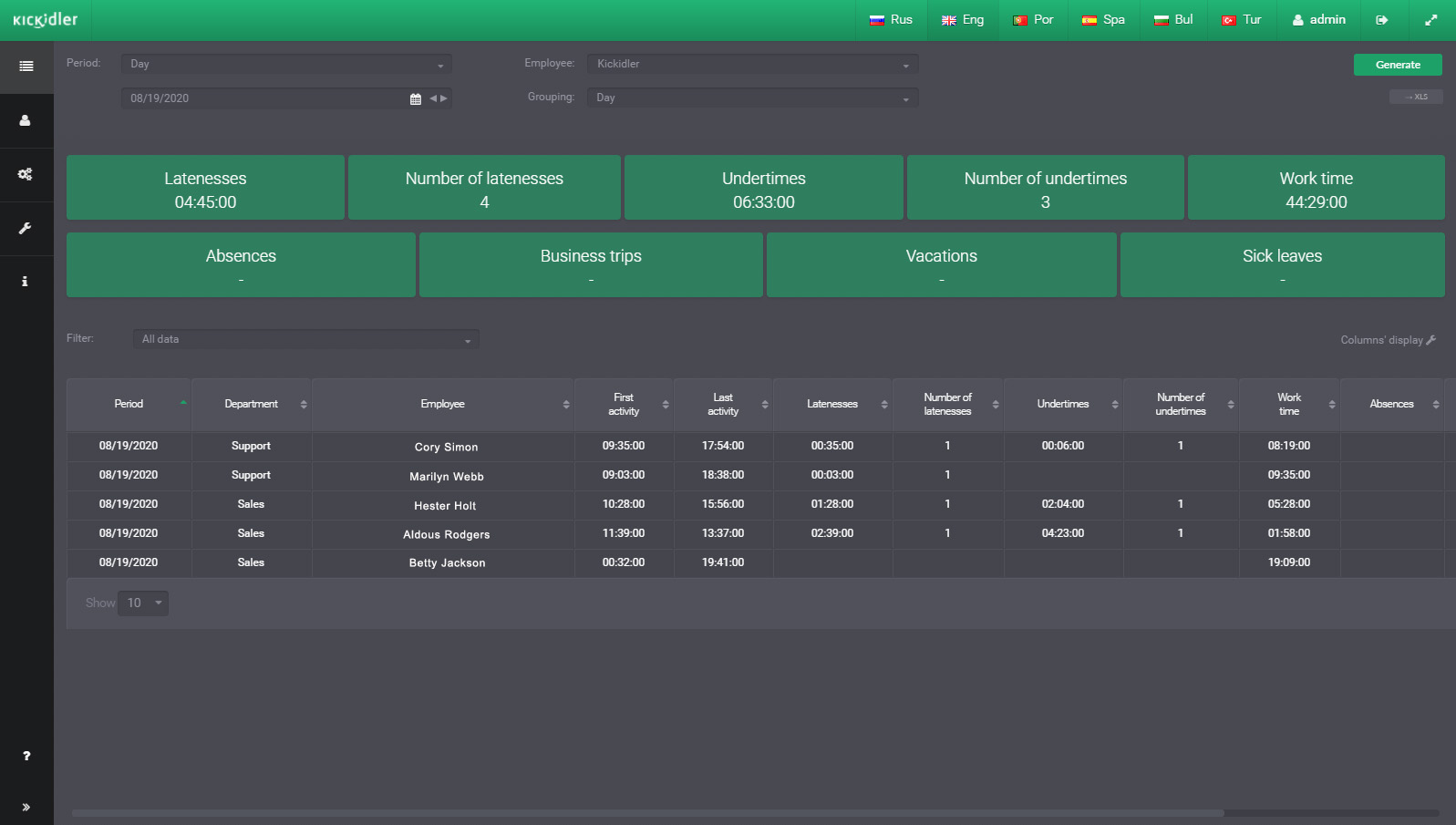 Time-tracking feature
Time-tracking tool simultaneously reduces the workload of the employee responsible for collecting such data and collects very useful statistics for the entire office or certain subdivisions and individual employees, on which the productivity analysis is based.
Kickidler records the time of the beginning and end of work, any pauses, lateness and idle times. The system also records the amount of time an employee spends on certain sites or in different programs. All of them are labeled as productive, i.e., needed for work, and unproductive, access to which is restricted or limited.
On the basis of this data, the program generates automatic reports that display the periods of downtime, active and inactive work, percentage of productive and unproductive time, beginning and end of workday, absences, idle time and other schedule violations as well as performance dynamics for the selected period.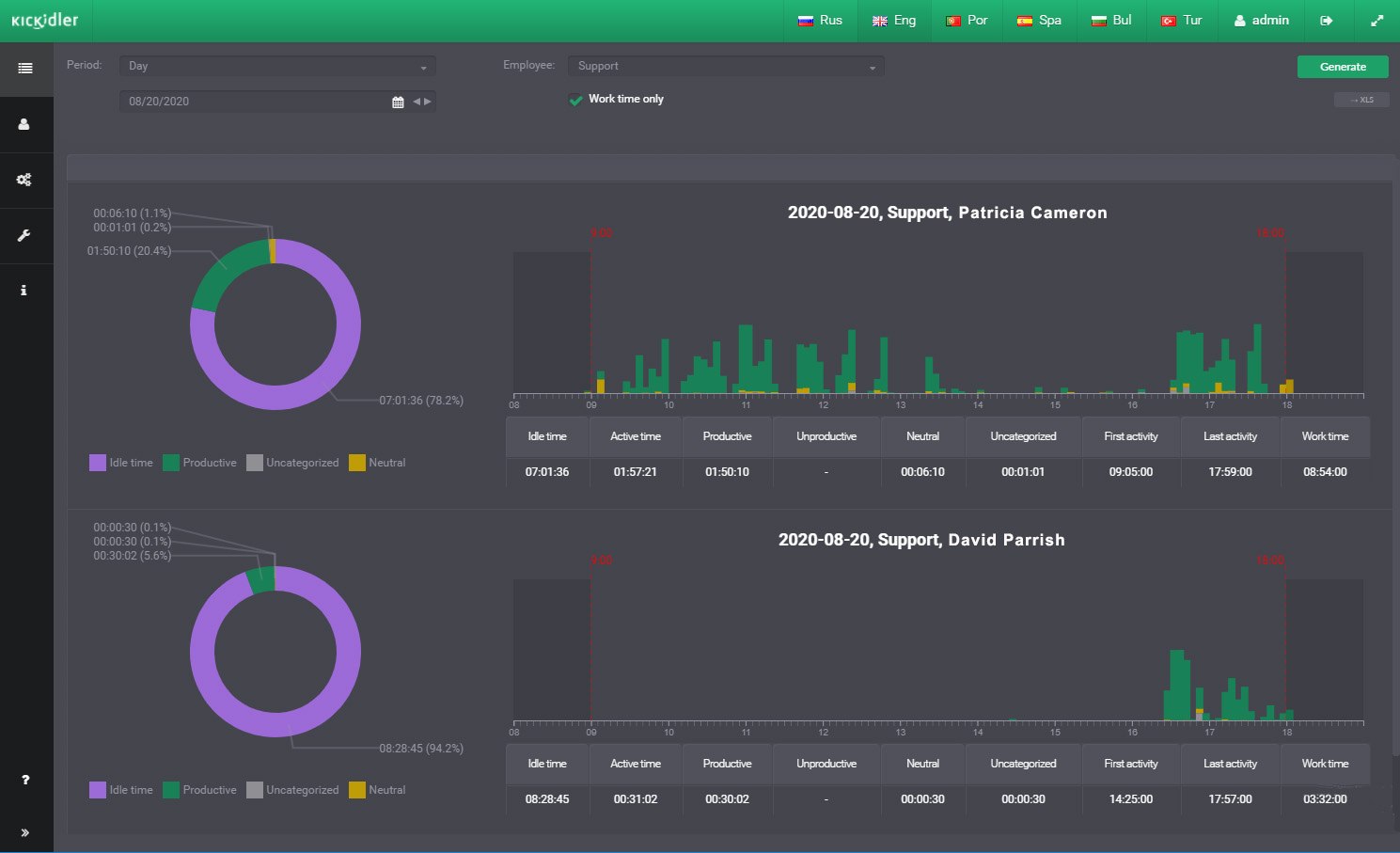 Other Kickidler's features
Productivity analysis. Automatic recording of all employees' actions, their analysis and generation of regular reports on office and individual employees' productivity.
Automatic notifications. The system automatically sends notifications on committed violations to the employee.
Self-monitoring interface. Interface with employees' personal productivity statistics that they can view at any time.
Productivity calendar. Enables supervisors to create work schedules, ranging from lunch breaks to scheduled vacations and days off.
Remote access. Allows a supervisor to connect to computers and manage them via the Internet at any time.
Keylogger. Records all keystrokes made on the keyboard during the workday.