Keylogger
What tasks does it solve?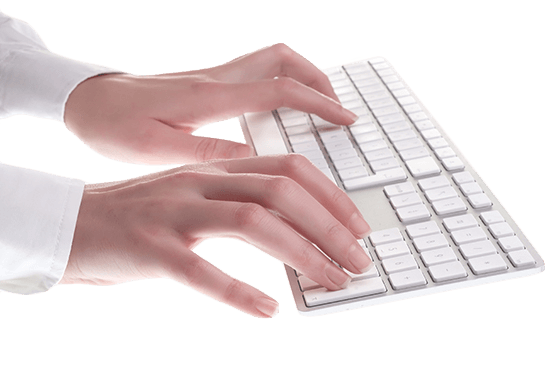 What Is Keylogger Software?
A keylogger, also known as a keyboard spy, is a program whose mission it is to record keystrokes an employee makes on his work computer in the course of his daily activities.
This system is invisible to the user, meaning that while it is in operation, the company's staff will not be aware that their actions are being watched.
How to use the keylogger program? Kickidler software has the keylogger function with advanced features that allows the supervisor not only to view all the keystrokes online and in recording, but also to watch video of activity to understand the context and also to download data in the Excel format.
This feature can be turned off if necessary.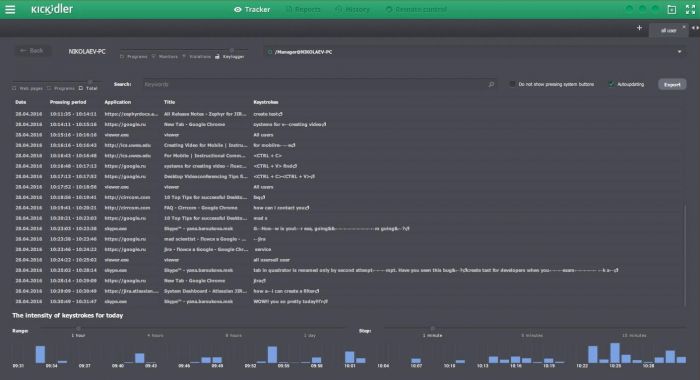 How Keylogger Works
Once installed, the Kickidler Keylogger will record keystrokes employees make in each program on their workstations: office software, email, websites, instant messengers and more.
The keystrokes logged are displayed in real time, as well as in a fully-detailed interactive report. This permits you to monitor what is currently going on in your department as well as view a historical display of your employees' actions.
Special keys are displayed as and.
All passwords entered by the user will be logged and displayed by this keyboard spy.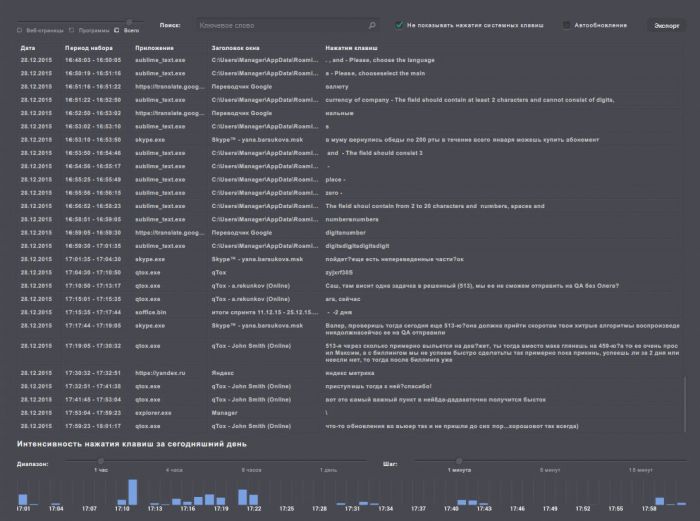 What Can Keylogger Do?
Keylogger records keystrokes of what employees type in every program on their workstations. This includes:

E-mail (such as Gmail.com and other web-based email applications)
Social networks (Facebook, LinkedIn, Twitter, Instagram and others)
Instant messengers (Skype, Viber, Telegram, ICQ, Lync and others)
Office software (Microsoft Office Suite and many others)

Keylogger provides a report on the intensity of each keystroke. This allows you to see, for example, which text an employee typed using the keyboard or whether he just repeatedly pressed the spacebar.
This powerful program also records a video of each one of an employee's activities on the PC screen and classifies whether any fall into a set of violations predefined by the employer.
All the information collected on an employee's actions (typed content, video of actions on the computer screen as well as violations) are combined into a single timeline which allows supervisors to have a comprehensive view of what the employee did during a particular time period.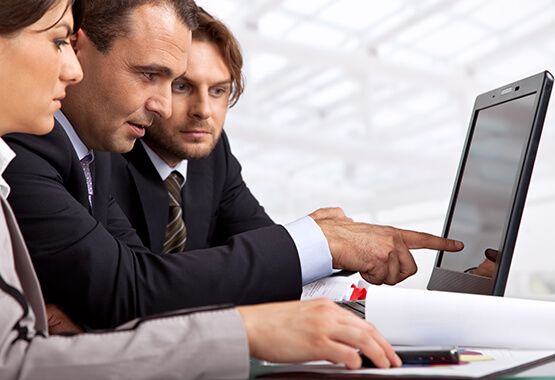 Why Should I Use Keylogger Software?
There are many reasons why a company would benefit from using Kickidler's Keylogger. Here are some of the most important:
To prevent data leakage (DLP - Data Leak Prevention). You will be able to detect insider threats and know whether your employees are communicating sensitive or restricted information to other parties and take action to prevent losses to your company.
To control the use of sensitive data (DLP - Data Loss Protection). You will see how exactly how data is being used and determine whether you need to strengthen your enterprise's data loss protection policies.
To evaluate the productivity of employees as they enter text with the keyboard and follow up in the cases of low efficiency.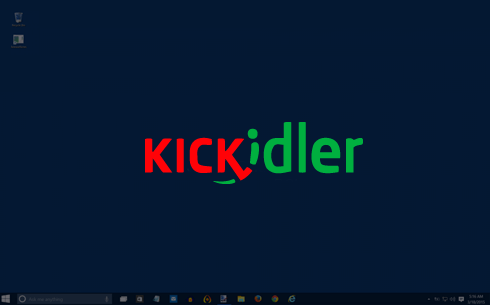 The Unique Advantages Of Keylogger
Keylogger is an important part of the Kickidler employee monitoring system, a product which comes with a full set of powerful functionalities: violation controls, video recording, online monitoring and evaluation of employee work time productivity.
You will be able to see full details of your employee's keystrokes in real time.
Each of your employees' activities are displayed on a single timeline. This consolidated presentation greatly simplifies the analysis of all types of incidents.
The video recording function allows you to know exactly what was happening onscreen while the employee was entering a particular piece of content, that is, which site or software they were using and how much time they spent with it.
Kickidler runs on any type of computer system: Windows, Linux and Mac OS.