When you start looking for the perfect employee monitoring software for your business, it is important to remember that your choice highly depends on the specific needs of your company, types of services it provides and various features it offers to its client base. To this extent, Kickidler is a powerful tool for the analysis and assessment of your team's productivity and efficiency as well as for the tracking of their attendance. The software offers its users extensive powerful functionality for recording and replaying the history of the employees' actions at their PCs. It is essentially impossible to cheat this solution. Its other features that ensure data loss prevention, keystroke logging and immense productivity analysis make the software stand out from other similar products available on the market. It becomes great help for both small businesses and large corporations, such as finance, sales and insurance companies.
In turn, Hubstaff provides several options to monitor employees as well. Its unique feature is Geofenced time tracking that provides customizable way to track your team's working time and sends notifications when team members arrive to work and leave it. The software is aimed at helping teams with project management as well as workforce management, offering features from employee scheduling to invoice tracking. Thus, the software is mainly utilized in mobile and field service teams such as construction and cleaning companies or in agile teams in such fields as architecture and software development.
To make the final decision of choosing the ultimate option for your business easier for you, we've decided to do a proper side-by-side comparison of Hubstaff and Kickidler employee monitoring software.
Basic Features
| | | |
| --- | --- | --- |
| Feature | Kickidler | Hubstaff |
| Time Tracking | | |
| Activity monitoring | | |
| Video monitoring | | |
| Self-monitoring interface for employees | Autokick | |
| Data leak and data loss prevention | | |
| Payments | | |
| Invoicing | | |
| Time off tracking | | |
| Reporting | | |
| Expense tracking | | |
| GPS tracking | | |
| Project budgeting | | |
| Visual monitoring | real-time video monitoring | optional screenshots |
| Geofencing | | |
| Stealth mode | | |
| Integrations | | |
| Free trial | 14 days | 14 days |
| Free option of the software | | |
| Tech support | | |
Main features
Now let's take a closer look at those features that both Hubstaff and Kickidler offer their users.
Feature
Kickidler
Hubstaff
Supported operating systems
Desktop – Mac, Windows, Linux
On-Premise – Windows, Linux
* Mobile app is in development
Desktop – Mac, Windows, Linux
On-Premise – Windows, Linux Mobile – Android, iOS.
Time tracking
Kickidler tracks working time of employees, when they start and finish working for the day, the details of their daily activity at the PCs, time used in apps and on websites, idle, productive and unproductive time they spend at work.
Hubstaff tracks time employees spend on different projects as well as view and create tasks within projects using the app version of the software.
Reporting
Kickidler team has identified the key reports that best reveal team's productivity and become essential for both business owners and HR specialists.
The 'Day's details' report shows the overall working time of each employee, all the breaks they take, their idle time as well as their most and least productive hours during the working day. The 'Efficiency report' collects data on the productivity of each employee, so that it becomes possible to monitor the time they spend on each project and the results their efforts yield.
The 'Working hours' report and the 'Timesheet' reports help supervisors monitor discipline of their employees and identify the ways to avoid potential issues.
The 'Time Report' and the 'Report by application' help measure the time employees spend in each app and on each web page during the working day.
The employee's rating is another powerful tool that in conjunction with KPIs can become a great help.
Hubstaff's reports illustrate time and attendance as well as payment per activity of each employee. For instance, reports on profitability include such forms as 'budget' reports that track project budget and 'automated payroll' reports that highlight billable time. They also include other reports such as 'shift & attendance', 'expense' and 'scheduling time' reports.
That essentially means that if you need to measure productivity of your staff, Hubstaff cannot completely cover this need. Its 'Productivity report' highlights only the amount of time employees spend in each application and, depending on the pricing plan, provides either randomly taken or customizable screenshots.
Support
Offers Email/Help Desk, FAQs/Forum, Knowledge Base, phone and chat availability of 24/7 live support.
Offers Email/Help Desk, FAQs/Forum, Knowledge Base and 24/7 live chat, without the option of live phone call support.
Employee productivity monitoring functionality
With its productivity monitoring functionality, Kickidler can definitely be considered more comfortable and effective to use since it measures every second of the working hour. Hubstaff's features in terms of productivity monitoring cover only general aspects such as time and activity measurements, however, not by periods of time but by activity.
| | | |
| --- | --- | --- |
| Feature | Kickidler | Hubstaff |
| Activity monitoring | Kickidler provides activity monitoring based on the keyboard and mouse activity and presents reports on time and productivity in a comprehensive way with user-friendly diagrams and graphs. Thus, you are able to track time employees spend in each app, detect their idle time and see all the information in user-friendly diagrams and graphics. | Hubstaff's activity monitoring feature is based on keyboard and mouse usage. It shows the amount of time employees spend on various websites and in different apps, so that it becomes possible to understand their working habits better. |
| Visual monitoring | Visual monitoring can be considered a universal tool that helps supervisors see up to 1 000 screens of their employees in real time. Since the software records the screens of the employees' PCs, the video playback speed can be customized, so that all the data for each day will be presented to you in mere minutes. You can make screenshots of the videos and export the entire videos as well as keylogger data to your desktop. | Hubstaff's optional screenshots show the employees' progress with random screenshots up to three times every 10 minutes. |
| Dashboard | Kickidler's dashboard presents you all the reports the software offers in a clear and concise way. You can also manage Autokick notifications and number of viewers from there as well as customize the notifications being sent and manage the dashboards on each employee's computer. | Hubstaff's dashboard lets you manage teams, time, and projects at once. You can customize it with up to 20 different widgets that show you the total number of hours tracked, activity rates, budget spent on projects, timesheets, money earned by each employee, and more. |
| Integrations | IntegratesIntegrates with over 20 various CRM software, BPM solutions, task managers, and PACS. | Integrates with over 30 apps, including PayPal, Asana, Trello. |
Pricing plans
Both Kickidler and Hubstaff offer their users free version with limited functionality as well as basic and premium plans and a 14-day free trial.
Feature
Kickidler
Hubstaff
Basic
$ 3.3 (user/month)

Includes only reports dashboard with autokick notifications but without visual live monitoring. Involves unlimited integrations, 24-hour support – is best suited for SMEs.
$ 4.17 (user/month)

Includes random screenshots, reports, 1 integration, 24-hour support, and per user settings – is best suited for teams of 10 persons and below.
Premium
$ 6.6 (user/month)

Includes all types of reports as well as real-time video monitoring, history tracking and exporting features.
$ 8.33 (user/month)

Includes website & app tracking, timesheet reporting, scheduling features, and automatic notifications.
Having all that in mind, if your company is looking for a tool that will best help measure productivity of the employees and raise their efficiency, Kickidler is the better option to choose.
And if you, on the other hand, need to track employees' time and attendance to budget their salaries accurately, Hubstaff becomes one of the best tools for that.
Sector Analysis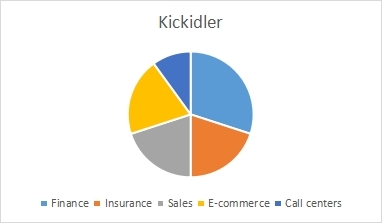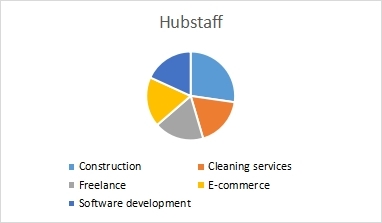 Customer cases
Case N 1
Adam is the CEO of a bank that has several branches in United States and throughout Europe. He had an issue with inadequate monitoring of his branch managers. Kickidler's real-time video monitoring feature allowed him to see exactly what each branch manager was engaged in every moment of their working day. Since he was rather busy to keep a close eye on the screens with online monitoring every second of the day, he instead surveyed Kickidler's automatically created reports that helped him identify the most and least productive branch managers, estimate their average activity and reward the best-performing managers based on their performance analysis in combination with their set KPIs.
Later, when the monitoring software was revealed to all branch managers, their efficiency at work increased by over 10%, which led to better employee motivation as well as larger profits.
Case N 2
Jake has a platform that offers delivery services. He was not particularly satisfied with the quality of his deliveries because of growing dissatisfaction of his clients so he had all employees install Hubstaff and use its geofencing feature. As a result, client dissatisfaction decreased several times, and in turn the business owner was able to calculate each of his employee's working hours more precisely with online timesheets and follow-up invoicing.
Kickidler's Autokick functionality
Kickidler's Autokick feature that provides the option for employees to monitor themselves during the working day helps them:
View statistics on their own productivity and their productivity rating in terms of other team members;
Switch Grabber on and off;
Receive automatic notifications on any activity that might be considered unproductive, such as:

visiting censored websites or opening banned applications;
using websites and apps for longer than the authorized amount of time;
opening a certain web page or document;
presenting signs of suspicious activity;
being inactive for extended period of time;
arriving to work late;
leaving work too early or too late;

Enable/disable monitoring of their PC altogether.
Make your team its utmost productive self!
Free 14-day trial
Kickidler Employee Monitoring Software
Share this post