Have you been examining the best options of employee monitoring software for a while now and still thinking it over?
We're here to give you a number of comparison samples between two top employee monitoring solutions that aid in raising employee productivity and provide a handful of other useful features.
Ready to start with a short introduction of both Teramind and Kickidler? Here we go!
Kickidler employee monitoring software facilitates the work of any business decision makers by providing in one place various in-depth reports on employee activity, applications used, details of each workday, productivity analysis and employees' rating. Moreover, in contrast to its competition, Kickidler provides a screen video monitoring feature where every second is count, and it's practically undetectable and certainly undeceivable. Simultaneous screen video monitoring feature of all employees offers extensive powerful functionality for recording and replaying the history of the employees' actions at their PCs. As a bonus, Kickidler assists information security officers in preventing data loss or leaks and sends automatic notifications.
Besides, as one of the best employee monitoring software, Kickidler is also among the most cost effective solutions. Approximately 80% of its functionality is similar to that of other monitoring software, and therefore it becomes a great Teramind monitoring software alternative for thousands of entrepreneurs and remote businesses around the globe.
If you've ever pondered over data loss prevention and compliance management issues, Teramind is among the best choices for your business. The solution helps companies prevent any insider threats concerning the flow of employee activities by identifying typical employee behavior, prevents data loss and blocks malicious user activity.
In addition to its DLP and compliance features, it also provides employee monitoring features to measure employee performance and offers reports on productivity of employees and their activity similar in its form to Kickidler yet different in its style.
Pricing plans
Unlike Teramind, Kickidler offers free version with limited amount of users monitored and features provided. However, both monitoring solutions have basic and advanced plans. In its turn, Teramind offers DLP and Enterprise plans that start at $25/month.
Feature
Kickidler
Teramind
Basic/Starter
$ 3.3 (user/month)

Includes reporting dashboard with Autokick notifications but without visual live monitoring. Offers unlimited integration options and 24/7 support – is best suited for SMEs.
$ 10 (user/month)

Includes screen recordings at random time intervals and online real-time monitoring, website and apps tracking.
Premium/UAM
$ 6.6 (user/month)

Includes all types of reports as well as real-time video monitoring, history tracking and exporting features, along with API integrations.
$ 21 (user/month)

Includes complete user activity monitoring, unlimited activity-based behavior rules, OCR engine, SIEM integration, pre-packaged productivity rules.
Main features
Now let's have a closer look at those features that both Teramind and Kickidler offer their users.
Feature
Kickidler
Teramind
Visual monitoring
Visual monitoring can be considered a universal tool that helps supervisors see up to 1 000 screens of their employees in real time. Since the software records the screens of the employees' PCs, the video playback speed can be customized, so that all the data for each day will be presented to you in mere minutes. You can make screenshots of the videos and export the entire videos as well as keylogger data to your desktop. This becomes especially handy for remote employee monitoring.
Teramind provides the options of both short videos and screenshots. As with Kickidler, videos show user activity as it's happening or after something has occurred with video-quality session recordings that can be used to review a security or compliance event or analyze both productive and unproductive behaviors. Unlike Kickidler, Teramind presents the sequence of videos when the user was active and in a separate tab presents random screenshots from desktop.
Reporting
Kickidler's reporting features best reveal team's productivity and become essential for both business owners and HR specialists.
Supervisors can see details of each employee's day separately, or they can download the data and use it in XSL format. All the breaks, unproductive time periods and productive activity are clearly presented via both visual graphs and dynamic tables.
With productivity reports, managers can easily identify employees with the best and worst productivity ratings and, by comparing KPI results, they can later make appropriate decisions.
Violation reports are sent to the supervisors or to the information security specialists in order to detect and prevent data loss occurrences.
With reports on applications, managers receive information on all apps that have been used even if that app was opened for a mere second.
The 'Report on working hours' and the 'Timesheet' report help supervisors monitor discipline of their employees and identify the ways to avoid any potential issues.
Teramind provides data-driven solutions, which means that users can make any action a KPI. Just like Kickidler, Teramind provides opportunity to track and measure productivity of not only individual employees but the departments as well. Teramind also provides an option to apply rules to custom app usage in order to quantify behaviors individual to specific needs of organization.
Besides productivity reporting, it also offers data leak alerts and data loss prevention features with the ability to see all risky activity in a single dashboard and identify the company's biggest security risks.
Teramind also has Business Intelligence reports where all reports are available in one dashboard and can be accessed easily.
Similar to Kickidler, Teramind provides functionality of email monitoring, keystroke logging, as well as monitoring of any actions from file transfers to online meetings. Its productivity reports are clearly distinguishable and quite user-friendly.
Productivity Analysis
When it comes to productivity analysis, Kickidler is unmatched in its functionality. With the help of its data processing technique, supervisors can clearly see productivity of employees, departments and even company as a whole.
With the help of such data-driven analysis, businesses can increase ROI by 15%. In addition to all its valuable features and reports, Kickidler also provides detailed information on employee rating based on their overall performance.
With Teramind, supervisors can access data on productivity to determine if it is stagnant across the whole organization or if it's just a matter of a few underperforming employees.
The software creates customized detailed metrics to detect if workflows and apps in-use are hurting or helping overall productivity. It also identifies high- and low-performing employees and departments, which then helps get to the bottom of things.
DLP
Kickidler helps you easily detect insider threats by collecting data on violations committed by employees, such as unauthorized access to confidential information, for example.
Kickidler has the ability to detect instances of employee cheating by recording videos of their every action at the PCs.
As an enterprise data loss prevention endpoint monitoring solution, Teramind's features protect company data from the risk of loss of any kind, no matter where it's being used. It prevents accidental data loss with rule customizations that monitor email & messaging activities, web usage and more.
Time tracking
Kickidler tracks working hours of employees, times when they start and finish their workdays, details of their daily activity at the PCs, time they spend in apps and on websites, as well as the overall amount of idle, productive and unproductive time they spend at work.
Teramind identifies any inactivity and measures how long specific tasks take employees to perform, helps eliminate unnecessary downtime and identify if employees have been padding their hours. With its reports, supervisors can access the details of all user activity with active working time logs. However, it doesn't provide reports on the beginning and end of workdays.
Support
Offers Email/Help Desk, FAQs/Forum, Knowledge Base, phone and chat availability of 24/7 live support.
Offers Email/Help Desk, FAQs/Forum, Knowledge Base and 24/7 live chat, without the option of live phone call support.
Supported operating systems
Desktop – Mac, Windows, Linux
On-Premise – Windows, Linux
* Mobile app is in development
Desktop – Mac, Windows, Linux
On-Premise – Windows, Linux
Mobile – Android, iOS.
Sector Analysis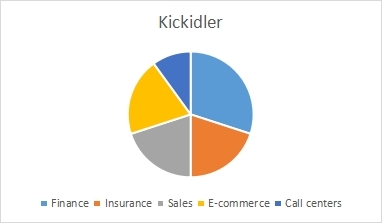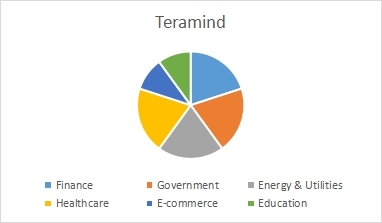 Customer cases
Case N 1
John is one of the founders of "ANN bank," which has over 10 branches all over the US. The bank is at the brink of its peak development, however, managing human resources and employee productivity has become a real problem. Therefore, John has been searching high and low for the best solution to measure employee productivity and monitor their discipline. As a matter of fact, his choice fell on Kickidler employee monitoring software. He activated employee self-monitoring functionality, which enabled employees to get notifications on their own productivity and all the violations that are happening. After using its features of real-time monitoring and data reporting on all employees for a month, he could identify the weaknesses of the company and what was needed to be done in order to improve the situation. Moreover, Kickidler's productivity metric was included in the KPI measurement, thus helping hard-working specialists get additional financial bonuses. As a result, within a few months bank was able to improve its ROI by 15 % due to the improved discipline and productivity of their employees.
Case N 2
John is the founder of "John and partners" bank that has many competitors and, therefore, its data has been under great risk. That's why John has decided to implement a monitoring solution that will help monitor employees as well as prevent potential data leaks. He selected Teramind as a potential number one alternative to DLP systems and he was able to succeed. As a result, he was able to detect that one of his executives was cheating and sending vulnerable data to the competitors via corporate email. With the help of detailed reports, he was able to see all the emails firsthand and get actual recordings of the data leak.
Kickidler's Real-Time Employee Monitoring
You can add up to 1,000 employees onto the screen and simultaneously monitor their screens in real time in order to detect any potential violations. In particular:
you can see the desktops of all employees in the form of a grid with the help of Quadrator.
see a highlight of a number of screens for closer monitoring of certain people.
Raise productivity and discipline of your employees!
Free 14-day trial
Kickidler Employee Monitoring Software
Share this post