Please note that some of the features are currently in development and may have different names in the future, particularly after the release.
We'd also appreciate it if you could participate in a short survey and vote which of our upcoming features you find most useful.
Take the survey
Dear clients (both current and prospective alike!),
our Kickidler employee monitoring software is continuously evolving and expanding with new features. We keep an eye on emerging trends, analyze competing solutions, come up with our own unique features and modifications, thus striving to remain on trend – and sometimes even setting the new industry standards.
This year, we have received some investment, significantly expanded our R&D team, and are ready for a real breakthrough in the development of our software. We have already released a lite version of our solution, Kickidler TT (Time Tracking). A cloud version of our product is also currently in the final stages of development. Still, this is only a fraction of the features we've outlined in our ambitious 2023 plan.
In this article we'll share with you a full list of the new features of our software (in chronological order). These features that we have planned for 2023 will most definitely help you make your business more successful.
Video Recording By Event
Once implemented, this feature will save you a significant amount of space on the Server, as our software will be recording and storing video history of activities only for those events that you've marked (for example, interactions with CRM software or all activities that you've flagged as violations).
Scorecard: 60% complete
Work Stage: Production
Estimated Release Date: End of May
UPD: feature released
Cloud version
Cloud-based version of our solution will also help you save a significant amount of space on your Server. Moreover, with its help you will be able to optimize your business costs and increase your offerings without purchasing and managing the software itself.
Scorecard: 60% complete
Work Stage: Production
Estimated Release Date: End of October
"Activity History" report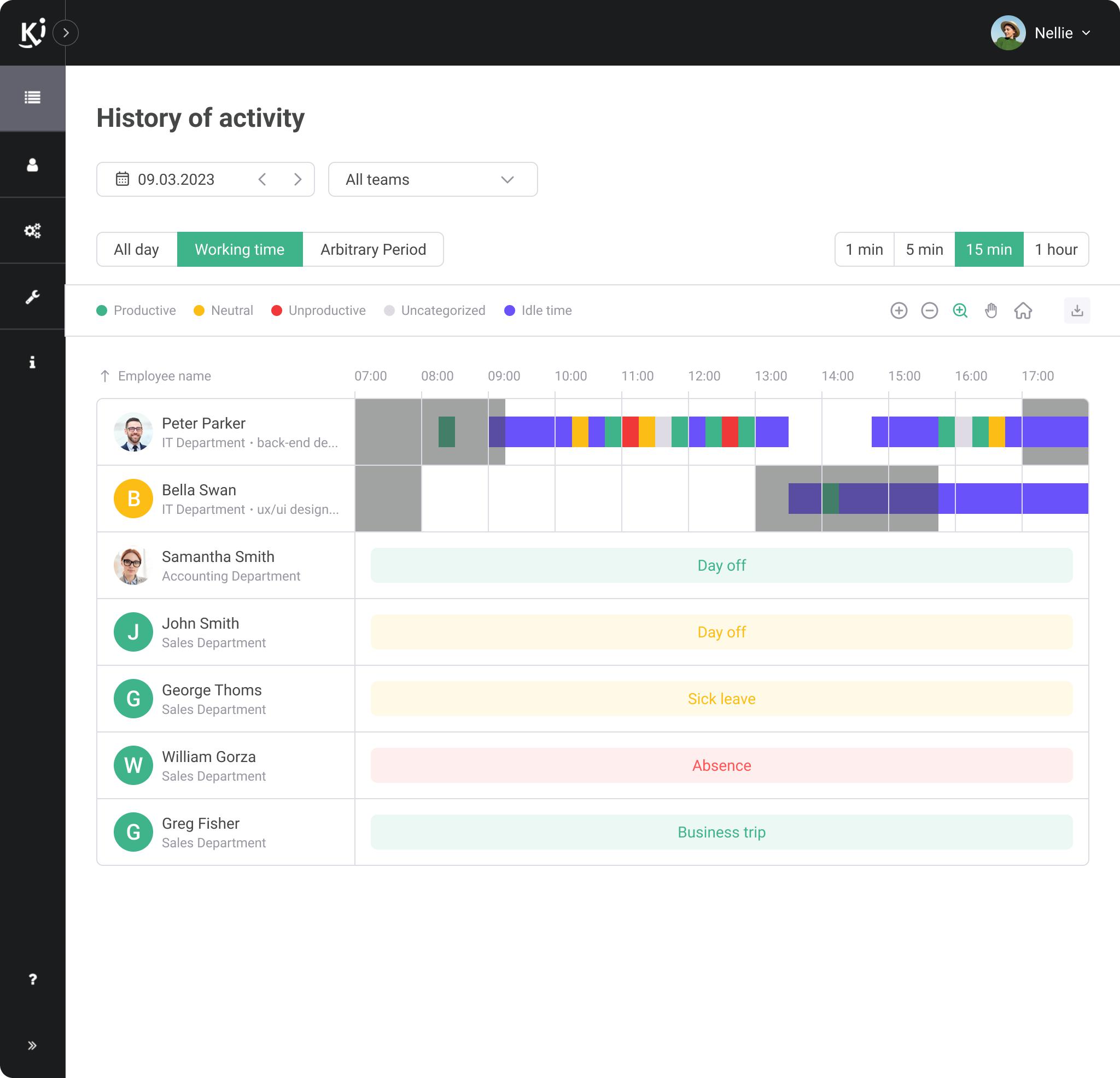 This feature will be kind of equivalent to our Screen Video Recording feature, presenting an exact chronology of all employees' actions at their computers. But rather than just presenting it visually, it will do so in the form of a detailed report in the Web Interface, with both graphical and chronological sections.
It will allow users of Kickidler TT version to see a detailed timeline of employees' activities at their computers.
The Timeline will show customizable increments of 5, 10, and 15 minutes, color-coded by the prevailing type of activity (productive, unproductive, neutral, etc.).
By selecting any of the specific granules you are interested in, you will be able to view the entire chronology of the employees' activity at their computers, both in the context of that particular granule and throughout the entire workday.
Scorecard: 40% complete
Work Stage: A prototype has been developed, the design has been rendered, and the feature has gone into production
Estimated Release Date: End of August
UPD: feature released
Audio Recording, Tracking Activity by Audio
Per your numerous requests, we've moved forward with the implementation of the feature that records audio from the microphone within the phone and conferencing apps. Audio track will be synchronized with the video track in the Viewer of our software, which will allow you to have more precise and informative timeline of the employees' actions.
Scorecard: 20% complete
Work Stage: Production
Estimated Release Date: Mid September
Epic feature. Project Monitoring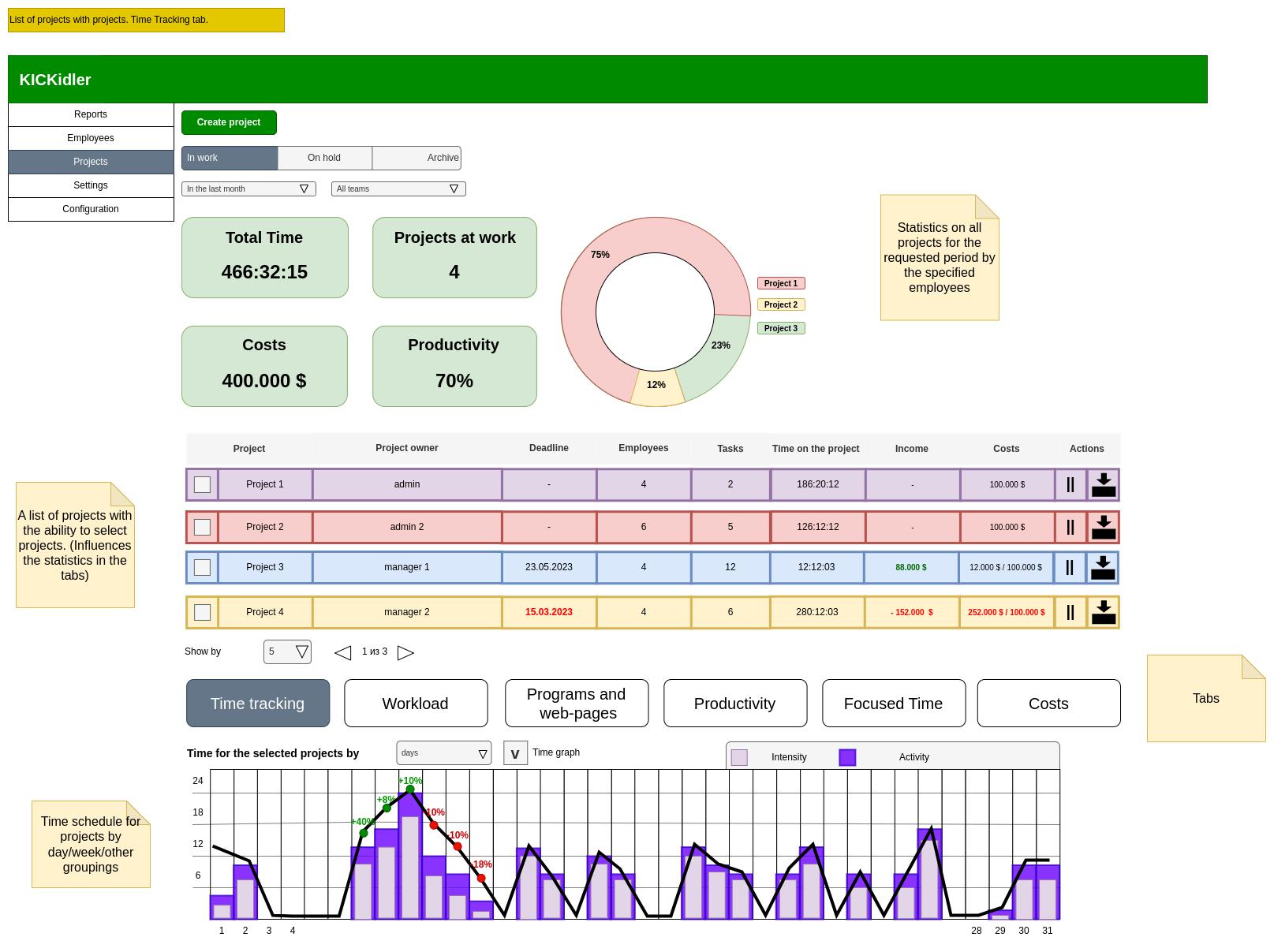 The epic feature we are going to release this year is Project Monitoring.
We have been getting a lot of requests for such a feature. And so we've reviewed every option that's out there and decided that we need to create something a touch more advanced than any of the ones currently available on the market.
This new feature will help you to:
Monitor employees solely in the context of their work on specific projects and tasks.
Estimate the actual cost of particular projects.
Estimate the actual revenues and profits from certain projects.
Evaluate each employee's productivity level when working on various projects.
Evaluate what websites and applications employees use when working on projects.
Evaluate how much time employees spend on working on projects.
Assess the workload of employees, which will be especially helpful when you need to allocate certain work assignments to them.
See how focused employees are when they work on different projects and tasks simultaneously.
See work progress on each project, whether it's a routine or a time-bound one.
Brand the Self-Monitoring interface.
What will our unique features be?
The ability to add both projects and epics (large subprojects) and to monitor activity just within those epics. This will be useful if you have several teams working on one project at the same time.
We have come up with a new concept, "Employee Workload." Smart workload evaluation will allow managers to assess the intensity of the different employees' workloads and consequently assign tasks to the least busy ones.
We have come up with a new concept, "Employee Focus." Smart employee focus assessment will determine which projects and tasks employees spend most of their time on, allowing managers to prioritize tasks properly so that the team members will be able to better concentrate on the most important projects.
We have come up with a very easy-to-use interface for the employees, which will allow them to tag their progress on various projects very quickly and very conveniently, requiring less than 2 minutes of their time per day. We have tested other similar offers on the market, and we must admit that our feature has stood the tests and truly turned out to be the most convenient and fastest.
Branding the Self-Monitoring interface will allow for better integration of our software into the internal company environment of our users.
Scorecard: 15% complete
Work Stage: A prototype has been developed
Estimated Release Date: September (approx.)
Introduction of "Productivity" and "Intensity" concepts
We've already told you how Kickidler monitoring software measures the productivity of your employees. A major advantage of our method is the high accuracy in analyzing employee productivity.
With the updated version of our software, we decided to revise the entire definition of Productivity as a concept and divide it into two parts, Productivity and Intensity. Productivity will be measured in configurable steps of 30 seconds to 5 minutes, while Intensity will be measured similarly to how we currently measure Productivity, i.e. in 1-second increments. This will allow you to assess the performance of your employees by two parameters at once: how productive they are at work, i.e. how much time they spend in productive apps or without taking long breaks, and Intensity, i.e. how much time they work in a focused manner.
Estimated Release Date: September (approx.)
Offline Activity Logging
We will seamlessly integrate our software with well-known calendars, conferencing applications, and VoIP software, which will provide the ability to automatically include these types of activities in our time and productivity reports.
Estimated Release Date: September (approx.)
Dashboard
The Dashboard, or Summary, will allow you to get up-to-date info on everything that's going on at your company on the main screen of our web interface.
Estimated Release Date: November (approx.)
Modernization of the Web Interface
Our web interface has not been updated in quite some time, so we thought it was finally time to redesign and modernize it. This new version will be even more user-friendly. We will expand and group some of the existing reports in such a way that you will be able to use them even more easily. We will also add a light interface theme, which will be optional.
Estimated Release Date: End of the Year (approx.)
We are confident that the new features of our employee monitoring software will contribute to making your business even more successful. We will talk about the new features in more detail during our webinars. We would also appreciate it if you could take part in our survey.
Take the survey
Kickidler Employee Monitoring Software
Share this post