Configuration
---
The "Configuration" section is used to specify the technical settings of the program complex. Section "Configuration" contains a subsections "Mail server", "Data recovery", "Security".
Mail Server
Subsection "Mail server" need to enter the settings of the server that will deliver reports on e-mails.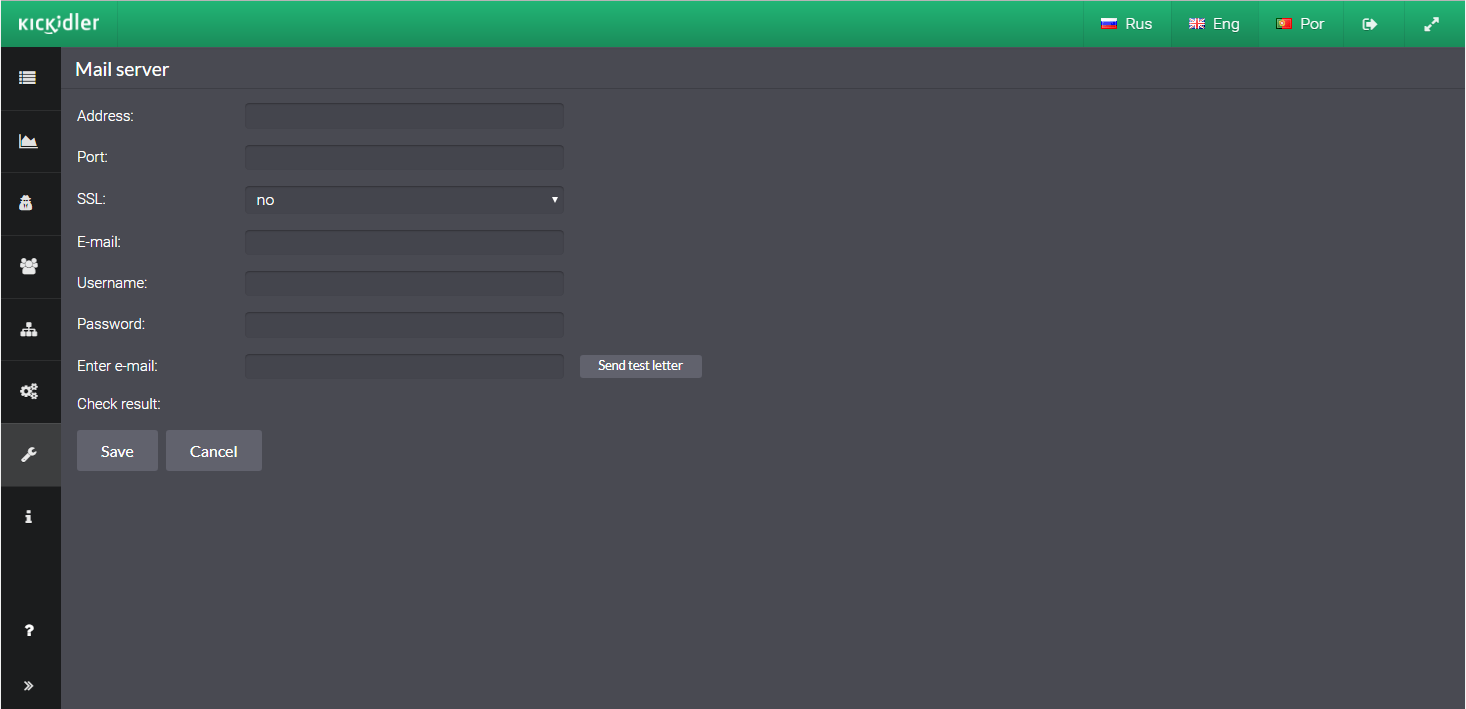 To connect the mail client, in the "Mail server" subsection fill in the following fields:
Address — SMTP server address,
Port,
Using SSL - we recommend using "Yes",
E-mail,
Username — account, username or e-mail address for authorization,
Password — password for authorization
and click on the "Save" button.

To check the correctness of the specified settings, fill in the "Enter e-mail" and click on the "Send test letter" button. If the verification result is "e-mail was sent successfully", the entered settings are correct.
To cancel unsaved mail server settings, click on the "Cancel" button.
After specifying the correct settings of the mail server, go to the "Reports' mailing" section of the "Settings" section to create tasks for sending reports.
Data recovery
Subsection "Data recovery" is used for backup of the central information and its recovery from the backup copy. Such information includes:
structure of the organization,
evaluation of efficiency,
filters on violations,
coordination scheme component,
settings of the e-mail server,
already created mailing newsletters.
Attention! Collected video and information for reports don't get backed up.
By default files for recovery are stored on the server.
To download any file for recovery, press the "Download" button across from the file you need.
You can recover central information from the given list for the last seven days or for the first days of the last six months.
Ways of recovery:
Selecting the file for recovery from the given list,
Loading the file for recovery from your file system to do it, press the "Load the File for Recovery" button,
Then press the "Recover" button and wait for information on the results of recovery.
Security
Subsection "Security" is used for setup of safe connection for web interface of the Central Server.
To manage security of the web interface of the Central Server, configure the following settings in the section "Security":
• Protocol – if you want to use safe connection, you will select the https protocol,
• If necessary, change port for the Web server,
• Load the SSL certificate,
• Load the private key for the certificate,
• If necessary, insert the password of the private key,
and press the "Apply" button.
To cancel security settings that haven't been saved, press the "Cancel" button
Attention! You will have to confirm the changes you make. If confirmation for the changes doesn't arrive, the setback to the previous settings will happen in 30 seconds.